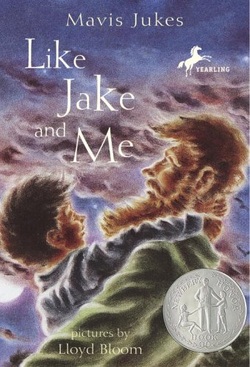 Publisher's Note:
In this Newbery Honor-winning story from 1984, a new family builds a relationship as a stepfather and stepson celebrate their differences and take heart in their similarities. Alex feels that he does not have much in common with his stepfather Jake until a fuzzy spider brings them together.
This book was sent to Compass Book Ratings for review by Yearling (A Random House Children's Imprint)
Like Jake and Me
by Mavis Jukes
Overall Review:
Like Jake and Me is a fabulous example of a book that says a lot with very few words. Little Alex is trying to help his step-father, Jake, but is usually brushed off with that age-old phrase, "Maybe another time." Then comes a moment in time when Alex helps Jake—in this instance, Alex realizes that even a grown man and a 'real' cowboy can have fears that seem just as simple as his own, and Jake realizes that Alex is a person, too. We see a very sweet bonding moment between a boy and a man who are trying to form a new family. It is very perceptive for such a short book, and deserves multiple readings to discover the many layers. For a child, it's a fun story of a boy helping a man find a spider. For an adult, it's a touching reminder of those moments where we learn from and grow closer to our children.
Content Analysis:
This sweet little book has no profanity, no violence, and no sexual content. One character undresses piece by piece searching for a poisonous spider, and there is a picture, but there are strategically placed hats and shadows, so nothing is seen; it is rather humorous. The themes are very mild and include overcoming your fears, and realizing that whether adult or child, we are not all that different on the inside.
Mature Subject Matter:
***
Alcohol / Drug Use:
***
Reviewed By Emily