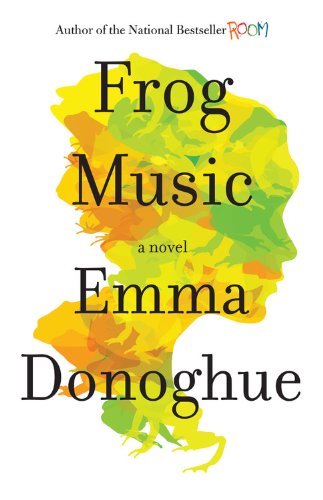 Publisher's Note:
Summer of 1876: San Francisco is in the fierce grip of a record-breaking heat wave and a smallpox epidemic. Through the window of a railroad saloon, a young woman named Jenny Bonnet is shot dead.

The survivor, her friend Blanche Beunon, is a French burlesque dancer. Over the next three days, she will risk everything to bring Jenny's murderer to justice--if he doesn't track her down first. The story Blanche struggles to piece together is one of free-love bohemians, desperate paupers, and arrogant millionaires; of jealous men, icy women, and damaged children. It's the secret life of Jenny herself, a notorious character who breaks the law every morning by getting dressed: a charmer as slippery as the frogs she hunts.

In thrilling, cinematic style, FROG MUSIC digs up a long-forgotten, never-solved crime. Full of songs that migrated across the world, Emma Donoghue's lyrical tale of love and bloodshed among lowlifes captures the pulse of a boomtown like no other.
Frog Music
by Emma Donoghue
Overall Review:
I have never been to San Francisco, but it has always seemed like a pretty cool place--at least, nowadays. After reading this book, I can't imagine wanting to visit it in the late 1800's. I'm sure even then, there was an abundance of culture and business was booming, but perhaps the bad outweighed the good. When I was first introduced to Blanche Beunon in Frog Music, I wasn't sure I liked her very much. She seemed to be lewd and loose, qualities I don't much admire in a woman. But when I learned a little more about her life and her story, I began to see that she was making the best out of a rough situation.
If you read Emma Donoghue's previous book Room and are looking for something similar, or even remotely resembling that book, this one will surprise you in being nothing like it. If I were not aware of whom the author was, I would never have connected the two novels as being written by the same author. That is not to say, however, that this book is not well written. It's been on the New York Times bestseller list--it's good. If you are curious to see what all this author has to offer, get your name on the list for this book at your local library, or purchase a copy. You will be in for an, at times, sad and depressing, albeit interesting read.
Content Analysis:
Profanity/Language: 4 religious exclamations; 3 mild obscenities; 4 derogatory names; 2 scatological words; 4 anatomical terms; 6 F-Word derivatives.
Violence/Gore: Abuse of children mentioned briefly; some brief description of children living in squalor; animals are killed and dismembered in one brief scene; a woman is mentioned to have been whipped, scars described; a woman is shot and blood and gore are mentioned briefly; a dead body is described in detail briefly; a mild injury is mentioned with some blood; theft is mentioned once; a character is suspected to have committed suicide
Sex/Nudity: Adults kiss several times; women dance in a sexual way in a burlesque show; prostitution/selling of sex acts mentioned multiple times; adult nudity is mentioned in a sexual way several times; sexual acts between adults is mentioned multiple times; a man and woman have sex in one brief scene, descriptive; touching/caressing is mentioned briefly two times.
Mature Subject Matter:
Racism, child abandonment, death, personal crisis, theft.
Alcohol / Drug Use:
Adults drink frequently; adults are mentioned to smoke cigarettes.
Reviewed By Lydia