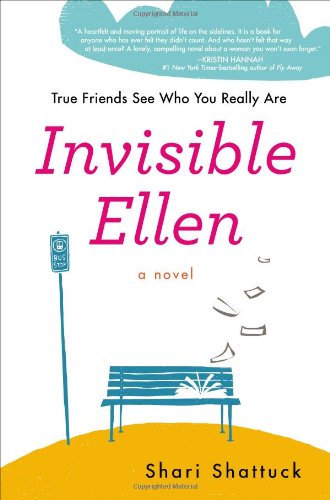 Publisher's Note:
In the bestselling tradition of Jennifer Weiner, a clever, funny yet poignant novel about the friendship between two absolutely unforgettable women.


For many of us, there comes a moment when we wish we were invisible.

For Ellen Homes, not only does she wish it . . . she actually lives it.

She spends her days quietly observing but unobserved, watching and recording in her notebooks the lives of her neighbors, coworkers, and total strangers. Overweight, socially stunted, and utterly alone, one night Ellen saves a blind young woman from being mugged.

Then everything changes.

Character-driven, poignant, and leavened with touches of humor and witty dialogue, Invisible Ellen is a remarkable novel about personal transformation, morality, the power of friendship, and the human need for connection with others.
Invisible Ellen
by Shari Shattuck
Overall Review:
I'm sure at some point in your life, you have felt invisible. Whether it is because you are speaking and no one is listening, or you do a good deed and no one notices, or any number of reasons. Perhaps you feel invisible most of the time. I know I do. Sometimes I wish I were invisible. For the main character in this book, Ellen Homes, being invisible comes naturally. She has found it easier to slide through life as a shadow. Living this way means that few questions are asked, and thus few questions need to be answered. I had the feeling Ellen had some underlying anxiety issues that she just couldn't face, and this is something I can closely relate to, so I found this to be an interesting issue, as I could read about it and see myself in her a little bit.
But what happens when a shy, "invisible" person accidentally opens up and lets someone into their life? Depending on your personality, an easy answer might be to befriend this new acquaintance. Or, it might be to run away and hide. I can sympathize with the latter option, and I am not going to give you any spoilers, so I can't tell you how Ellen deals with this scenario...you will have to read this book for yourself. I found this book to be a quirky, quick read with lots of spunk and character. If you need something to brighten your day, pick up Invisible Ellen, you might just find a new best friend
Review of Advance Reader Copy
Content Analysis:
Profanity/Language: 2 religious exclamations; 1 mild obscenity; 2 derogatory names; 2 anatomical terms; 1 F-Word derivative.
Violence/Gore: A character is shot and bleeds a lot in two descriptive scenes; a character is mentioned to have been killed in the war; bullying is mentioned; child abuse mentioned briefly with no description; guns are shot during a drug bust; verbal threats are made.
Sex/Nudity: A woman is mentioned to be pregnant and unwed.
Mature Subject Matter:
Abandonment, divorce.
Alcohol / Drug Use:
Adults drink; adults smoke; marijuana use is mentioned; there is a drug bust.
Reviewed By Lydia