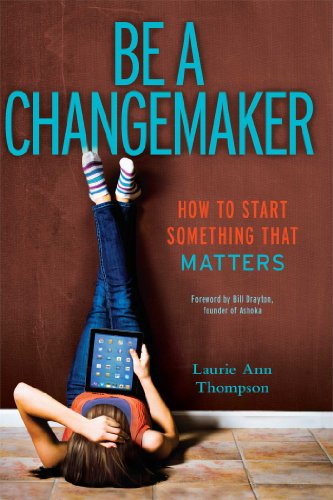 Publisher's Note:
Empower yourself in today's highly connected, socially conscious world as you learn how to wield your passions, digital tools, and the principles of social entrepreneurship to affect real change in your schools, communities, and beyond.

At age eleven, Jessica Markowitz learned that girls in Rwanda are often not allowed to attend school, and Richards Rwanda took shape.

During his sophomore year of high school, Zach Steinfeld put his love of baking to good use and started the Baking for Breast Cancer Club.

Do you wish you could make a difference in your community or even the world? Are you one of the millions of high school teens with a service-learning requirement? Either way, Be a Changemaker will empower you with the confidence and knowledge you need to affect real change. You'll find all the tools you need right here—through engaging youth profiles, step-by-step exercises, and practical tips, you can start making a difference today.

This inspiring guide will teach you how to research ideas, build a team, recruit supportive adults, fundraise, host events, work the media, and, most importantly, create lasting positive change. Apply lessons from the business world to problems that need solving and become a savvy activist with valuable skills that will benefit you for a lifetime!
This book was sent to Compass Book Ratings for review by Simon and Schuster Books for Young Readers
Be A Changemaker: How to Start Something That Matters
by Laurie Ann Thompson
Overall Review:
Be A Changemaker: How to Start Something That Matters by Laurie Ann Thompson is a terribly affirming book that not only shows you how to change the world in first-class style--it makes you want to actually do it. Thorough, complete, organized, on-target--pick an adjective, because they all apply in this case. The format of the book mixes real-life examples, inspirational quotes, step-by-step instructions, advice, author experience, and a few graphics for a young adult friendly how-to book. By the end, after talking about finances and non-profit status, it might seem a bit over-whelming, if all you want to do is sell cupcakes; however, this book is scale-able, and it can be taken in chunks and sections applied as necessary. In fact, certain chapters such as "Speeches that Sparkle" have universal application, regardless of one's philanthropic tendencies. With a top-notch table of contents and a resource listing at the back of the book, this is a great reference book that can be turned to again and again. The business and organization principles are universal and can be applied to participation in many causes, projects, and organizations.
Overall, this book says so much positive about the potential of youth and encourages them to not wait until they "grow-up" to change the world, but to begin today. A superb reference book that should be a staple of libraries, school counselors, and anyone who rubs shoulders with young people.
Review was of an Advance Reader Copy
Content Analysis:
Profanity/Language: None
Violence/Gore: Reference/report of young adult murdered; report/reference to death of a young activist Pakistan.
Sex/Profanity: Passing, incidental reference to LGBT, gay movement.
Mature Subject Matter:
None
Alcohol / Drug Use:
None
Reviewed By Cindy