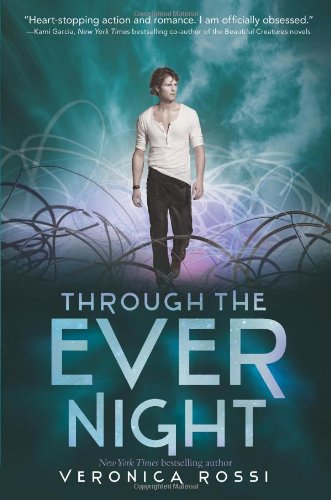 Publisher's Note:
A world-defying love is put to the ultimate test in the New York Times and USA Today bestselling sequel to Veronica Rossi's "masterpiece," Under the Never Sky (Examiner.com ). In this second book in her spellbinding Under the Never Sky trilogy, bestselling author Veronica Rossi combines fantasy and dystopian elements to create a love story as perilous as it is unforgettable.
It's been months since Aria last saw Perry. Months since Perry was named Blood Lord of the Tides, and Aria was charged with an impossible mission. Now, finally, they are about to be reunited. But their reunion is far from perfect. The Tides don't take kindly to Aria, a former Dweller. And with the worsening Aether storms threatening the tribe's precarious existence, Aria begins to fear that leaving Perry behind might be the only way to save them both.
Threatened by false friends and powerful temptations, Aria and Perry wonder, Can their love survive through the ever night?
Through the Ever Night
by Veronica Rossi
Overall Review:
Yes! Loved it! Through the Ever Night sustains the promise of the first book and might even exceed expectations. Author Rossi really grows the storyline with the development of themes around family, belonging, prejudice and discrimination, and the meaning of loyalty. The characters don't have all the answers and are working their way through the issues amid high-action. The world Rossi has created throws her characters unrelenting chaos and challenges almost faster than they can handle them; it is very much an out -of-the-frying-pan-into-the-fire environment. Some unexpected, heart-wrenching moments take your breath away and unusual alliances keep the reader guessing. So far, the only thing I don't like about this series is the books' artwork, since it does not accurately reflect the description of the characters in the book--particularly Peregrine.
The big question remains as to whether author Veronica Rossi can accomplish the rare feat of completing a trilogy without destroying it. The success stories are few and far between--especially in the young adult demographic--but I am rooting hard for a victorious finish to this series. So far, a superb series!
Content Analysis:
Profanity/Language: 4 mild obscenities; 3 derogatory names.
Violence/Gore: References to deaths from first book; report of property damage; damage by natural disasters resulting in minor injuries; attempted poisoning of a character; knife is slashed across palm to draw blood for ceremony; ceremonial tattooing with mention of blood; fist fight between characters; extended battle scene with arrows, axes, knives, etc. resulting in deaths, but with minimal details; report of compound being overrun, no details, but implied multiple deaths; sparring practice; characters knock-out, kill others, non-detailed; character killed with crossbow; injuries due to natural disaster; character is kidnapped; character exhibits signs of violence such as a bloody nose, etc.; implied death of thousands; extended fighting scene involving the shooting of arrows, gun fire, hitting, knives resulting in deaths, injuries w/ mention of blood, face cut with a knife.
Sex/Nudity: A few instances of characters kissing; a few instances where characters embrace and kiss passionately; male and female characters sleep next to each other (non-sexual); characters embrace and caress face, shoulders, back, etc.; characters have feelings of attraction and desire for other characters.
Mature Subject Matter:
Death, ethics, prejudice.
Alcohol / Drug Use:
Characters drink an alcoholic beverage at celebrations, etc.
Reviewed By Cindy