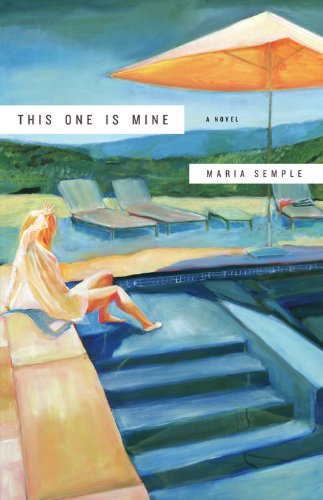 Publisher's Note:
Violet Parry is living the quintessential life of luxury in the Hollywood Hills with David, her rock-and-roll manager husband, and her darling toddler, Dot. She has the perfect life--except that she's deeply unhappy. David expects the world of Violet but gives little of himself in return. When she meets Teddy, a roguish small-time bass player, Violet comes alive, and soon she's risking everything for the chance to find herself again. Also in the picture are David's hilariously high-strung sister, Sally, on the prowl for a successful husband, and Jeremy, the ESPN sportscaster savant who falls into her trap. For all their recklessness, Violet and Sally will discover that David and Jeremy have a few surprises of their own. THIS ONE IS MINE is a compassionate and wickedly funny satire about our need for more--and the often disastrous choices we make in the name of happiness.
This One Is Mine: A Novel
by Maria Semple
Overall Review:
Having read Where'd You Go, Bernadette by Maria Semple and having enjoyed it immensely, I thought I might as well give Maria Semple's only other book a try. Chances were, I thought, that it would be every bit as scrumptious as her other novel. Wishful thinking on my part. This One is Mine struck me as a more shallow book; there wasn't much depth to the writing or the characters and their lives. I didn't find any one character that I really liked, in fact, they just weren't very interesting. Sometimes I read a book and there are a few parts I don't like, but the good outweighs the bad. Not so with this one. I had a hard time finding much to like, but I kept reading because I loved Where'd You Go, Bernadette so much.
If you like to read books about people who are living a big, rich life and have all they have ever dreamed of, such as some of Lauren Weisburger's books, there is a chance you will enjoy this book. I can only handle so many of those books before I start going crazy and wanting to slap the women in them who think so highly of themselves and their expensive high-heels and upper-class husbands. (Not that I have anything against people who have well-paying jobs and live comfortably...just the books that portray that sort of person as someone who only cares for themselves.) There must be someone out there who would enjoy this book, so I say, give it a try. Why not? What have you got to lose?
Content Analysis:
Profanity/Language: 7 religious exclamations; 2 mild obscenities; 1 derogatory name; 1 scatological word; 2 anatomical terms; 13 F-word derivatives.
Violence/Gore: A man is mentioned to vomit blood; an abusive relationship is briefly mentioned with some brief description of physical and verbal abuse; dead animals are mentioned and briefly described, no blood is mentioned.
Sex/Nudity: Sex before marriage is mentioned briefly in conversation; adults kiss several times; one brief explicit sex scene between adults is mentioned; a woman is mentioned to have had abortions several times, with no description of the operation; adultery is mentioned multiple times; a character has an affair which is mentioned many times.
Mature Subject Matter:
Adultery, abuse.
Alcohol / Drug Use:
Drug use, dealers mentioned; adults smoke marijuana; adults drink; a man is mentioned to be a severe alcoholic.
Reviewed By Lydia