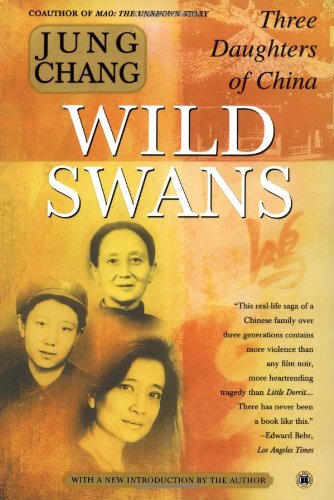 Publisher's Note:
The story of three generations in twentieth-century China that blends the intimacy of memoir and the panoramic sweep of eyewitness history—a bestselling classic in thirty languages with more than ten million copies sold around the world, now with a new introduction from the author

An engrossing record of Mao's impact on China, an unusual window on the female experience in the modern world, and an inspiring tale of courage and love, Jung Chang describes the extraordinary lives and experiences of her family members: her grandmother, a warlord's concubine; her mother's struggles as a young idealistic Communist; and her parents' experience as members of the Communist elite and their ordeal during the Cultural Revolution. Chang was a Red Guard briefly at the age of fourteen, then worked as a peasant, a "barefoot doctor," a steelworker, and an electrician. As the story of each generation unfolds, Chang captures in gripping, moving—and ultimately uplifting—detail the cycles of violent drama visited on her own family and millions of others caught in the whirlwind of history.
Wild Swans: Three Daughters of China
by Jung Chang
Overall Review:
China's turbulent past is captured excellently in the Wild Swans: Three Daughters of China. Told through the personal experiences of three generations of women this account is better than any history book. The experiences of the three women are unique is such a way that they seem impossible to be true. Ranging from warlord concubine, communist freedom fighter, and finally an enlightened academic the reader will be surprised at the cultural and historical events that make up the last hundred years of China's history.
Surprised may be the wrong word. Completely mystified at the political reality that was Mao's China is more apt. Reading about the death, starvation, living conditions, isolationism, destruction of moral values, idleness, ignorance and overall decay of society caused by Mao and his followers is remarkable. More remarkable are the experiences of those who overcame these struggles. That is the greatness of this autobiography/biography.
My only criticism of the book is that it is somewhat slow in spots. Not because of the story, but because the reader must plow through pages and pages of the abhorrent conditions and tragic tales of China. It is depressing reading that sets you up for a good ending. A book worth reading--I highly recommend it.
Content Analysis:
Language/Profanity: 3 derogatory names
Some use of foreign words or phrases that are roughly translated and would be offensive if said to a Chinese person in China but are not considered profanity in the United States.
Violence/Gore: It is hard to list every account of violence mentioned in this book. The story has everything from spanking a child to public beatings and executions. Second hand accounts of war, rape, gang fights, riots, fist fights, suicide and torture are all present. Nothing is very graphic in detail--it is just mentioned and described as a second hand account much like a history book. During the famine section of the book there is mention of cannibalism of babies and children. It is not described in detail but referred to and is probably the most disturbing individual act in the book. Some of the torture techniques are described but an actual scene of torture is limited and non-graphic.
Sex/Nudity: Several minor flirtations or romantic gestures; describes the lifestyle of a concubine but is non-graphic; several second hand mentions of rape - non-detailed; several scenes about child birth - non-graphic; some talk of being a "worn shoe" essentially a girl with loose morals; a woman breast feeds in public totally topless; a couple of references to semen stained clothing.
Mature Subject Matter:
Murder, torture, death of family member, death of a child, rape, war, Communism, poverty, class system, Despotism, propaganda, corruption, famine, disease, censorship, suicide, mental illness.
Alcohol / Drug Use:
Drinking of alcohol, references to opium, drug addiction, pipe and cigarette smoking.
Reviewed By Matthew