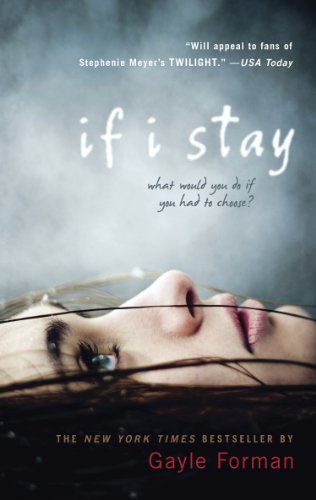 Publisher's Note:
The critically acclaimed, bestselling novel from Gayle Forman, author of Where She Went, Just One Day, and Just One Year.

Soon to be a major motion picture, starring Chloe Moretz!

In the blink of an eye everything changes. Seventeen ­year-old Mia has no memory of the accident; she can only recall what happened afterwards, watching her own damaged body being taken from the wreck. Little by little she struggles to put together the pieces- to figure out what she has lost, what she has left, and the very difficult choice she must make. Heartwrenchingly beautiful, this will change the way you look at life, love, and family. Now a major motion picture starring Chloe Grace Moretz, Mia's story will stay with you for a long, long time.
If I Stay
by Gayle Forman
Overall Review:
Having purchased If I Stay at a local thrift shop (what can I say--I'm a sucker for the $1 book bin), I had no idea about the book's impressive achievements (2009 NAIBA Book of the Year, an ALA/YALSA Quick Pick for Reluctant Young Adult Readers, and the 2010 Indie Choice Honor Award winner, to name a few) or that it has been adapted into a major motion picture that will be hitting theaters the summer of 2014. Because I had no expectations, I was able to enter the story with an open mind, thus making for a more pleasant experience.
Immediately, I was captured by the easy familial style that author Gayle Forman creates among her characters, as well as her impeccable timing for whisking a scene in a new direction; it's a sweet jovial conversation and then WHAM...tragedy strikes! I was hooked. I couldn't put the book down. Suddenly, I'm the protagonist Mia who's faced with a crucial but unavoidable decision after being involved in a fateful accident. The story reads from Mia's point of view, following her journey 24 hours after the collision, as she recounts developmental experiences with loved ones that have shaped her life until the present time. The way in which she is able to describe her encounters with her family and friends is engaging and helps the reader develop a relationship with them, too. I enjoyed the creative nature in which Forman approaches Mia's "out of body" experience with realty; it was heartfelt and dynamic. What's so engaging about Mia is that she not the "typical teen" we've come to expect, rather she is eloquent, poignant, and an old soul, if you will. (She loves the cello!) I thought the rapport between Mia and her parents was compelling, but felt the author was too aggressive in her approach to make the parents seem "modern" and "cool" with their liberal and permissive attitude towards profane language, under-age drinking, and sexual promiscuity.
Stylistically speaking, the novel may appeal to fans of Before I Fall by Lauren Oliver. Music lovers may also find this a pleasing read. If you enjoy the bittersweet If I Stay, then you should check out the second book in the series, Where She Went.
Content Analysis:
Profanity/Language: 4 religious exclamations; 1 religious profanity; 6 mild obscenities; 5 derogatory names; 14 scatological words; 4 anatomical terms; 11 f-word derivatives.
Violence/Gore: Extended scene (about 6 pages) a family is involved in a tragic accident, somewhat graphic and disturbing in nature, character witnesses family members' dead bodies, describes injuries incurred during accident, blood and gore mentioned; brief scene (about 1 paragraph) medical terms used to describe a character's injuries obtained during an accident; extended scene (about 2 pages) of character undergoing surgery, medical terms used to describe surgery, some blood mentioned; characters are involved in a physical altercation with each other resulting in minor injuries; mention of character whose face is distorted from an accident, blood mentioned; brief scene of character witnessing a natural birth, blood cited; a few mentions of bloody bandage, blood seeping through blanket.

Sex/Nudity: Few mentions of teen characters engaging in flirtatious behavior such as holding hands and kissing; implication given that teen characters are intimate with one-another; teen character mentions they are a virgin but not committed to staying one; mention of teen character no longer being a virgin, no details given; extended scene (about 3 pages) of teen characters taking off their shirts and touching one-another in places normally and not normally covered by bathing suits; the words " hook-up", "one-night stand" and "make-out" are used a few times with no details given; mentions of homosexuality, the words "lesbian", "gay" and "queer" are mentioned; 2 mentions of two characters of the same gender dating; brief reference to adults having sex, no details; reference to a teen character telling another character how their parent discussed planned parenthood, contraception, and wants their significant other to get tested for sexual diseases; parent provides underage character with money for condoms; 2 brief scenes of non-sexual depictions of nudity; parents allow teen to spend nights with their significant other.
Mature Subject Matter:
Death of family member(s), death of loved one(s), underage drinking, teenage sex, abortion, homosexuality, miscarriages.
Alcohol / Drug Use:
Character smokes a pipe; alcohol referenced a few times using words such as "wasted" and drunk"; mention of drug overdose (2x); beer is consumed by adults; mention and implication of underage drinking; brief mention of underage character drinking wine while participating in a religious dinner; underage character is in a smoky bar.
Reviewed By MaryLou