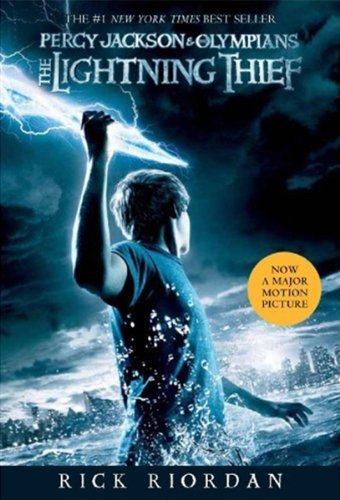 Publisher's Note:
Percy Jackson is about to be kicked out of boarding school...again. And that's the least of his troubles. Lately, mythological monsters and the gods of Mount Olympus seem to be walking straight out of the pages of Percy's Greek mythology textbook and into his life. And worse, he's angered a few of them. Zeus's master lightning bolt has been stolen, and Percy is the prime suspect. Now Percy and his friends have just ten days to find and return Zeus's stolen property and bring peace to a warring Mount Olympus. But to succeed on his quest, Percy will have to do more than catch the true thief: he must come to terms with the father who abandoned him; solve the riddle of the Oracle, which warns him of betrayal by a friend; and unravel a treachery more powerful than the gods themselves.
The Lightning Thief
by Rick Riordan
Overall Review:
What would it be like if all those stories from Greek mythology were actually true? That's the premise of The Lightning Thief, the first book in a series about modern demigod Percy Jackson (the son of Poseidon, god of the sea, and a mortal woman). Percy has spent his life getting kicked out of private schools, struggling with ADD and dyslexia, and putting up with his mom's horrible boyfriend. When a school field trip reveals that some of his teachers are more than they seem, Percy discovers that he is the son of Poseidon, one of the "Big Three" Olympic gods from Greek mythology. He's whisked away to spend the summer at Camp Half-Blood, a place where demigods are protected from the hordes of Greek monsters trying to hunt them down! The pace of Percy's adventures never slow down as he makes friends with a satyr and a fellow demigod and is sent out on his very own quest, running into familiar characters from Greek mythology all along the way. At times the quick pace of the story can feel choppy, but overall, it's fast, clean fun! For any child or adult who enjoys fun, smart fiction and/or Greek mythology, The Lightning Thief is the perfect book!

Content Analysis:
In the world of The Lightning Thief, the Greek gods are real, and the characters often use mild oaths in the name of their "gods." Because the book is focused on Percy's adventures, many of which are battles with the unsavory monsters of Greek myth, there is violence throughout the book. However, nothing is especially gory or gratuitous.
There is some very mild sexual content in that all of the demigods are illegitimate children of the Greek gods and humans; gods having affairs with mortals are mentioned, but never in a way that is explicit.
Mature Subject Matter:
There are some mature themes throughout the book, such as bad relationships (Percy's mom and her boyfriend), affairs, and characters in danger. Although it could easily be enjoyed by younger children, due to the age of the characters, it is recommended for readers 12+
Alcohol / Drug Use:
***
Reviewed By CindyB