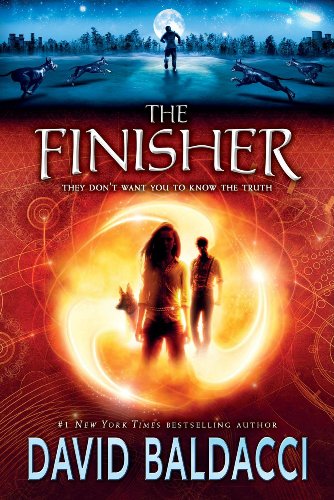 Publisher's Note:
#1 New York Times bestselling author David Baldacci as you've never seen him before.

Why would Quentin Herms flee into the Quag? There was nothing in the Quag except certain death.

Vega Jane has never left the village of Wormwood. But this isn't unusual -- nobody has ever left the village of Wormwood. At least not until Quentin Herms vanishes into the unknown.

Vega knows Quentin didn't just leave -- he was chased. And he's left behind a very dangerous trail of clues that only she can decode.

The Quag is a dark forest filled with terrifying beasts and bloodthirsty Outliers. But just as deadly are the threats that exist within the walls of Wormwood. It is a place built on lies, where influential people are willing to kill to keep their secrets. Vega is determined to uncover the truth -- but the closer she gets, the more she risks her life.

With The Finisher, master storyteller David Baldacci conjures a thrilling, imaginative world where things are as wrong as wrong can be -- and introduces us to an unforgettable heroine who must think fast, look close, and defy all odds in her fight to do what's right.
This book was sent to Compass Book Ratings for review by Scholastic Press (A Scholastic Imprint)
The Finisher
by David Baldacci
Overall Review:
The Finisher by David Baldacci is a dystopian fantasy unlike any other. The book reads like a conspiracy theory set in the relics of a Terry Brooks' Shannara world. The reader first settles into a plotline similar to that of familiar dystopian novels, but quickly realizes that the added elements of fantasy creatures, magic talismans and sorcery have upped the ante a bit. Fast-paced, action-packed and mysterious, the tale is engrossing and confusing at the same time. There are some cliches to the characters and plot, but also enough unexpected elements to make it completely unpredictable. Readers will be hooked, mystified, and excited for the next book, in the hopes of getting some kind of grasp on what is really going on and how it all fits together!
Content Analysis:
Profanity/Language: 35 Mild obscenities.
Violence/Gore: A character is chased by attack dogs; several verbal threats of harm; attack by a fantasy creature, killed by a knife in the eye; attack of fantasy creatures, property destroyed; battle violence, 2 characters killed; fantasy violence; a character is burned; a character is kicked in the stomach and hit on the head; a character is thrown down and threatened; a character throws a rock at another; description of an execution; a character falls and dies; several "duels" with kicking, punching, wrestling, blood; frightening scene of a monster absorbing a character; a duel to the death, monster attack; fantasy violence; 2 characters shot; a character is blasted with magic.
Sex/Nudity: Characters kiss twice; one character undresses to underwear to show drawing.
Mature Subject Matter:
Battle Violence, death, monsters.
Alcohol / Drug Use:
Several instances of characters using "smoke weed" and "flame water."
Reviewed By Kristen