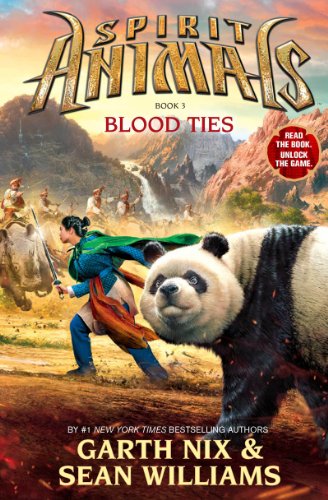 Publisher's Note:
The adventure continues in this third book of the epic multiplatform fantasy series.

Erdas is a land of balance. A rare link, the spirit animal bond, bridges the human and animal worlds. Conor, Abeke, Meilin, and Rollan each have this gift-and the grave responsibility that comes with it.

But the Conquerors are trying to destroy this balance. They're swallowing whole cities in their rush for power-including Meilin's home. Fed up with waiting and ready to fight, Meilin has set off into enemy territory with her spirit animal, a panda named Jhi. Her friends aren't far behind . . . but they're not the only ones.

The enemy is everywhere.
This book was sent to Compass Book Ratings for review by Scholastic
Spirit Animals Book 3: Blood Ties
by Garth Nix & Sean Williams
Overall Review:
In such series as 39 Clues and Spirit Animals, it is somewhat incredible that the stories flow so seamlessly as they are passed from author to author, yet still giving the reader a flavor for their individual writing styles. Garth Nix and Sean Williams continue the story arc of the Spirit Animals series in a fantastic way. In this third volume, Blood Ties, the characters continue their search for the talismans of power held by each Great Animal. Friendships and spirit bonds strengthen as each character grows in their different ways and they learn to trust each other and work together. In this particular volume, the violence seems to be a bit more graphic, details of fight scenes are just a little more concrete and descriptive than in previous books. It was not noticeable enough that it would change the recommended reading age, however. The story continues its fast pace and action, and some questions are answered while new ones emerge as the young heroes continue their quest to defend their world against the forces of the Devourer. Readers will definitely not be disappointed with this volume of the series, and will be even more excited for the next!
Content Analysis:
Profanity/Language: None
Violence/Gore: Characters ambushed, knocked unconscious; property destroyed; animals fight, scratch and bloody each other; small skirmish, characters knocked unconscious by darts; characters attacked, fight with knives, quarterstaff and chopsticks; one character threatens another with a knife; frightening scene of monster crocodiles and battle against them, axe in head, arrows in eye, throat cut; characters are injured by arrows; battle against monster crocodiles, injuries with little detail; detailed Battle violence, animals bite and claw, fighting with sword and axe, arrows plunged into chest; animal dies; character thrown into a heap; character crushed and dies.

Sex/Nudity: None
Mature Subject Matter:
Battle violence, death of a parent.
Alcohol / Drug Use:
None
Reviewed By Kristen