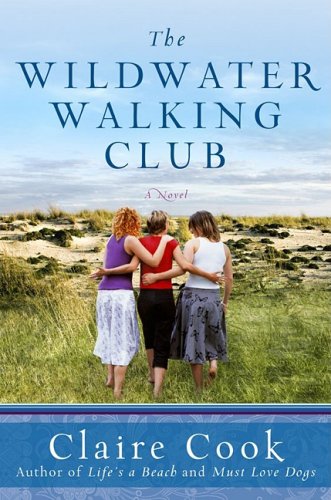 Publisher's Note:
Just put one foot in front of the other. Sounds simple, doesn't it But when Noreen Kelly takes a buyout from her job of eighteen years and gets dumped by her boyfriend in one fell swoop, she finds it hard to know what that next step is--never mind take it. At first Noreen thinks maybe her redundancy package could be an opportunity, a chance to figure out what to do with the rest of her life while her company foots the bill. Sure, she may have gotten high to "Witchy Woman" and grooved to "Sweet Baby James" back when James Taylor had hair, but she isn't ready for her AARP card. Not yet.
But it's the first time in a great many years that Noreen has time to herself--and she has no idea what to do with it. When she realizes that she's mistaken her resume for her personality, Noreen knows that she has to get moving, so she puts on a new pair of sneakers and a seriously outdated pair of exercise pants, and walks. She doesn't get very far at first--just to the end of her street, Wildwater Way--but she perseveres, and when she's joined by her neighbors Tess and Rosie, Noreen realizes that walking is not an extreme sport. It can actually be fun.
As the Wildwater women walk and talk, and talk and walk, they tally their steps, share their secrets, and learn what women everywhere are finding out--that time flies and getting fit is actually fun when you're walking with friends. Throw in a road trip to Seattle for a lavender festival, a career-coaching group that looks like a bad sequel to The Breakfast Club, a clothesline controversy that could only happen in the 'burbs, plenty of romantic twists and turns, and a quirky multigenerational cast of supporting characters, and the result is an experience that's heartfelt, exuberant, and above all, real.
The Wildwater Walking Club
by Claire Cook
Overall Review:
If you have read any of Claire Cook's books, you will recognize the certain lively style she has of writing a book that women can closely relate to. Even if you are not going through a divorce, losing your job, seeing a child off to college, or meeting men while walking your dog, you will find something that is endearing and almost addictive within the pages of her books. Although I would say I enjoyed other books of hers more than this one, The Wildwater Walking Club was definitely a fun read. Who wouldn't like to read about a group of women who seem to barely have a care in the world and decide to form a walking group that is obsessed with lavender and plans trips to exotic locales? Count me in.
A few of the things that happened in this book seemed a little far-fetched, but then I reminded myself that this book is, after all, a fiction book. The author does have the freedom to let her imagination run wild. The main character in this book, Noreen, seems to be very wrapped up in her job, and when she loses the security of that, she seems to be at a loss. This is sadly, a very real thing that we humans deal with. If we aren't complaining about our job, we are complaining about something else. And then if we don't have a job we have no idea what to do with ourselves! But Noreen is having none of that. Instead of lying around feeling sorry for herself, she uses her time to become a better person, emotionally and physically, and that is something we can all learn from and admire. So if you are looking for a fun weekend read, or something you can pick up and set down at your own leisure without having to worry about keeping track of a confusing and twisted storyline, try this wonderful book about a group of women who probably won't change the world, but might change their own lives.
Content Analysis:
Profanity/Language: 3 religious exclamations; 3 mild obscenities; 3 scatological words; 1 anatomical term; 5 F-word derivatives
Violence/Gore: None
Sex/Nudity: A group of characters jokes about "streaking"; making love is referenced with no detail; a teen girl gets pregnant and has an abortion, no detail is given; adults kiss multiple times; an adult couple is mentioned to have sex with no explicit detail
Mature Subject Matter:
Personal crisis, unwanted pregnancy, abortion.
Alcohol / Drug Use:
Adults smoke; adults drink.
Reviewed By Lydia