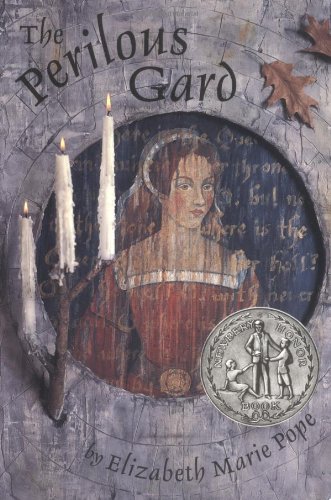 Publisher's Note:
In 1558, while exiled by Queen Mary Tudor to a remote castle known as Perilous Gard, young Kate Sutton becomes involved in a series of mysterious events that lead her to an underground world peopled by Fairy Folk—whose customs are even older than the Druids' and include human sacrifice.
The Perilous Gard
by Elizabeth Marie Pope
Overall Review:
It's 1558 and Kate Sutton is a lady-in-waiting. When she inadvertently offends the overly jealous and paranoid Queen Mary Tudor, she is punished by being exiled to an obscure castle known as Perilous Gard. The ever levelheaded Kate is not expecting to find adventure during her time in exile, least of all to encounter the magical underground world of the fairy folk. Beware because these folks are anything but friendly. Get ready to go on a bizarre, unexpected journey with Kate as she uses her wits and rational mind in a fantastical world of mercenary creatures.
This Newbery Honor book read well, and kept me interested. The characters were believable and well-developed without being overly descriptive, which sometimes can be disruptive to the plot. There were times when I had to reread a sentence more than once to understand what the author was describing, but that's to be expected when the author is trying to explain a world that's so unlike your own. The mood of the book is a bit darker than your typical fairy tale, but those who enjoy fantasy will still appreciate the magical elements. Those who enjoy historical/mystery will also be pleased with the period piece and plot twists. Technically a young adult book, the psychological intrigue and emotional complexity will appeal to adults while the book's mild nature makes it well-suited for middle school students, too. Overall I liked the book because it was simple without being childish and captivating without going rogue with graphic details.
Content Analysis:
Profanity/Language: 20 religious exclamations; 2 mild obscenities.
Violence/Gore: A few implied occurrences of violence or verbal threats; social conflict; gossip of murder; report of mother dying in childbirth; mention of character dying from old age; mention of character dying from sickness; report of fire being set to house; extended scene (2 pages) on how a little girl is believed to have died (no blood mentioned); possibility of a human sacrifice; intense (but not scary) scenes.
Sex/Nudity: A few mentions of flirtatious behavior.
Mature Subject Matter:
Human sacrifice.
Alcohol / Drug Use:
Mention of character getting drunk; the drinking of wine is referenced to several times.
Reviewed By MaryLou