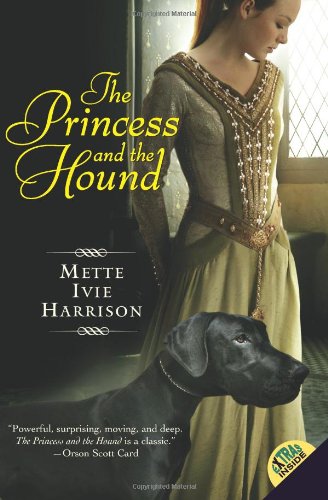 Publisher's Note:
He is a prince and heir to a kingdom threatened on all sides, possessor of the forbidden animal magic.
She is a princess from a rival kingdom, the daughter her father never wanted, isolated from all except her hound.
In this lush and beautifully written fairy-tale romance, a prince, a princess, and two kingdoms are joined in the aftermath of a war. Proud, stubborn, and bound to marry for duty, George and Beatrice will steal your heart—but will they fall in love?
The Princess and the Hound
by Mette Ivie Harrison
Overall Review:
We've all heard that you shouldn't to judge a book by its cover, but I didn't realize until reading The Princess and the Hound that you shouldn't judge a book by its title. With a name like The Princess and the Hound you'd assume it was all about a princess and a hound, right? If that's what you're expecting you're going to be surprised because the main story is about Prince George, and his journey towards becoming not only a King, but a man that can be respected, trusted, and loved. This is author Mette Ivie Harrison's first book in The Hound Saga. The writing style was pleasant, and it had good character portrayal, not only with physical but emotional descriptions. At times I became frustrated when reading because the story would be slow then speed up considerably, only to slow down again. Overall I thought the book was a nice read for boys and girls alike. What really stood out to me was the chief theme of the novel which is about discovery of self and true personal acceptance.
Content Analysis:
Profanity/Language: 1 mild obscenity; 1 scatological word. Note: the word b*tch is used in its correct literal meaning- female dog and not as a derogatory term. Also the word a** appears a few times because it is a horse's name.
Violence/Gore: Blood is mentioned in brief scenes of humans hunting animals as well as animals hunting animals; extended scene (1-2 pages) of war between animals and humans, mentions of blood, loss of eyesight, loss of ears, and loss of limbs; brief scene of sword fighting; mention of past war; mention of people discovered to have magical powers being burned at stake (all ages); brief scene of a character being burned alive; character having tongue cut out; character's eyes are burned out; report of character getting drunk and killing spouse; report of character dying during child birth, bloody still born child is mentioned; fable told of a character drowning; report of character dying from cannon fire; a character threatens to beat another character for disobeying; there is talk of torturing a prisoner; brief scene of an animal and child injured in fall.
Sex/Nudity: Few brief scenes of kissing, hand holding, hugging; reports of animals mating.
Mature Subject Matter:
Death of parent(s), torture, betrayal, abandonment, prejudice.
Alcohol / Drug Use:
Drinking of beer and wine; reports of "swaying with drunkenness" and "drinking heavily".
Reviewed By MaryLou