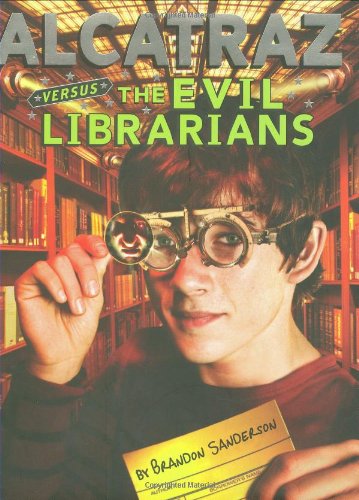 Publisher's Note:
The evil Librarians are coming!

A hero with an incredible talent...for breaking things. A life-or-death mission...to rescue a bag of sand. A fearsome threat from a powerful secret network...the evil Librarians.
Alcatraz Smedry doesn't seem destined for anything but disaster. On his 13th birthday he receives a bag of sand, which is quickly stolen by the cult of evil Librarians plotting to take over the world. The sand will give the Librarians the edge they need to achieve world domination. Alcatraz must stop them!...by infiltrating the local library, armed with nothing but eyeglasses and a talent for klutziness.
Alcatraz Versus the Evil Librarians
by Brandon Sanderson
Overall Review:
Brandon Sanderson has written another hit with this comedic adventure. Fast-paced, clever, and witty, readers of all ages will get a kick out of Alcatraz and his exciting quest to rid the world of evil librarians.
My students are much older than the recommended age for this book, but they've been harassing me to read it for months. They love the humor and adventure, and it doesn't hurt that Brandon Sanderson can't write a bad book in their eyes. They were right--I found much to laugh at and enjoy in this book--including cultural and literary references that young people probably won't get, and plot twists that are not only hilarious, but keep the reader reading.
If you're in the mood for a light, witty comedy/adventure, you've come to the right place. Alcatraz is sure to entertain.
Content Analysis:
Profanity/Language: 1 mild obscenity.
Violence/Gore: Property is destroyed throughout the book with no injuries; a kitchen is burned down; a character is shot at with no injury (2 times); a character experiences pain at the hands of a fantasy weapon; a character kicks and punches another character with no injuries (three times); in an extended scene (4 pgs), characters fight fantasy creatures with minor injuries and little blood; a character sustains a knife wound with little blood; a character's eye is put out by a laser with few details given.
Sex/Nudity: None
Mature Subject Matter:
Abandonment, divorce.
Alcohol / Drug Use:
None
Reviewed By Leslie