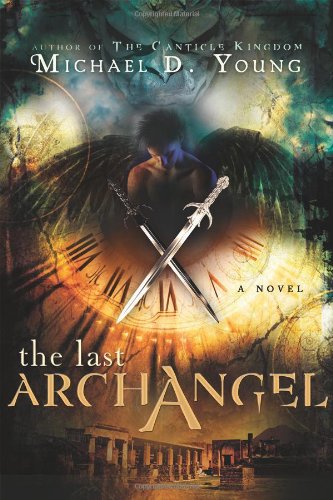 Publisher's Note:
Xandir has been exiled to earth until the end of time. But when his cherub trainee disappears, Xandir makes a deal with rogue angels and giants that could restore life to the mortal woman he loves and end his assignment as a destroying angel in exchange for helping them bring about the end of the world and all of mankind.
This book was sent to Compass Book Ratings for review by Bonneville Books
The Last Archangel
by Michael D. Young
Overall Review:
The Last Archangel is a novel completely out of this world. Xandir is an important angel who is forced to choose between the fate of the world or of his own life. The author weaves two separate stories that hardly ever cross paths but both are relevant to the conclusion. One being of Xandir and his apprentice Jarom fighting the underworld. The other of Eden, a New York woman, who is suddenly caught between the fight of good versus evil. The storyline is very exciting and full of suspense and readers will enjoy the different takes on Pompeii, Atlantis and the Yeti. There's no shortage of action as well with giants, demons, snakes, angels and more. At times characters seem to get lost or forgotten in the fray of things. There are also problems with smooth transitions in the book with details sometimes being left out. Yet, The Last Archangel, by Michael D. Young, keeps readers interested by giving them just enough action and adventure to keep one satisfied.
Content Analysis:
The profanities are limited to the mention of the underworld a few times.

Violence is very present in The Last Archangel where it does pertain to the end of the world. Fighting between angels, demons, thieves and mortals happens throughout the story. The act of trying to commit suicide is described at the beginning of the book by a character trying to jump off a bridge. One character slaps another character. There are a couple graphic scenes of a character offering his blood as an "entrance fee" and later stabbing himself.

The moderate instance of sexual content is a passionate kiss shared between two characters and a very mild innuendo.
Mature Subject Matter:
A moderate mature theme is due to the violence, speech and some sexual content.
Alcohol / Drug Use:
***
Reviewed By SqueakyCleanReads