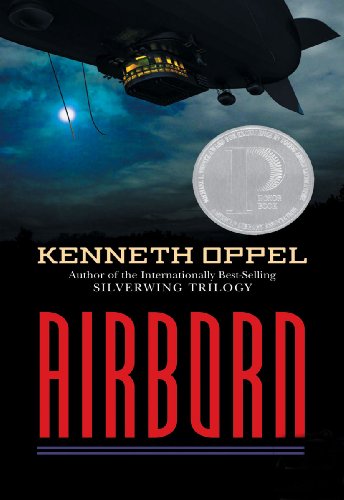 Publisher's Note:
Sailing toward dawn, and I was perched atop the crow's nest, being the ship's eyes. We were two nights out of Sydney, and there'd been no weather to speak of so far. I was keeping watch on a dark stack of nimbus clouds off to the northwest, but we were leaving it far behind, and it looked to be smooth going all the way back to Lionsgate City. Like riding a cloud. . . . Matt Cruse is a cabin boy on the Aurora, a huge airship that sails hundreds of feet above the ocean, ferrying wealthy passengers from city to city. It is the life Matt's always wanted; convinced he's lighter than air, he imagines himself as buoyant as the hydrium gas that powers his ship. One night he meets a dying balloonist who speaks of beautiful creatures drifting through the skies. It is only after Matt meets the balloonist's granddaughter that he realizes that the man's ravings may, in fact, have been true, and that the creatures are completely real and utterly mysterious. In a swashbuckling adventure reminiscent of Jules Verne and Robert Louis Stevenson, Kenneth Oppel, author of the best-selling Silverwing trilogy, creates an imagined world in which the air is populated by transcontinental voyagers, pirates, and beings never before dreamed of by the humans who sail the skies.
Airborn
by Kenneth Oppel
Overall Review:
Airborn is narrated by Matt Cruse, the 15 year-old protagonist and resourceful cabin boy on the airship Aurora. Set in a world that echoes ours, where oceans named the Pacificus and the Atlanticus are transversed by magnificent airships fueled by hydrium, Matt's encounters with the dauntless Kate de Vries, notorious pirates, and mysterious creatures place him and his ship in peril. Witty dialogue and perfect pacing propel this story through twists and complications to its climax. Not relying on stereo-types, Oppel builds his diverse cast of characters from the ground-up, breathing life into them, giving them depth, and engaging the reader. Airborn provides a flawless mix of characters, swash-buckling action, humor, and a whisper of romance to deliver an enthralling adventure. It is a fantastic read for any age and is particularly accessible as a great guy read. (Bonus Tip: There is a fabulous (Yes, fabulous!) full-cast audio recording of this book available. I have listened to it twice and as a rule, I don't do things twice. It is perfect for that road trip.)
Content Analysis:
Instances of mild violence consist of some animal attacks and death by pistol shot of some characters. Descriptions are brief. The two moderate instances involve animals attacking and killing characters with some brief detail provided.
Profanity includes a few mild, religious profanities and was noted five times. While not profanity, one character is called by a coarse name.
Sexual content is limited to a couple of chaste kisses.
Mature Subject Matter:
No mature thematic material is present.
Alcohol / Drug Use:
***
Reviewed By Cindy