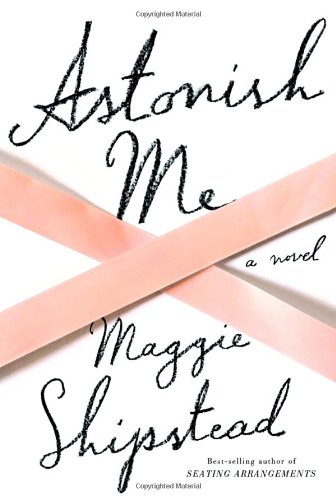 Publisher's Note:
From the author of the widely acclaimed debut novel Seating Arrangements, winner of the Dylan Thomas Prize and the Los Angeles Times Book Prize for First Fiction: a gorgeously written, fiercely compelling glimpse into the demanding world of professional ballet and its magnetic hold over two generations.

Astonish Me is the irresistible story of Joan, a young American dancer who helps a Soviet ballet star, the great Arslan Rusakov, defect in 1975. A flash of fame and a passionate love affair follow, but Joan knows that, onstage and off, she is destined to remain in the background. She will never possess Arslan, and she will never be a prima ballerina. She will rise no higher than the corps, one dancer among many.
After her relationship with Arslan sours, Joan plots to make a new life for herself. She quits ballet, marries a good man, and settles in California with him and their son, Harry. But as the years pass, Joan comes to understand that ballet isn't finished with her yet, for there is no mistaking that Harry is a prodigy. Through Harry, Joan is pulled back into a world she thought she'd left behind—back into dangerous secrets, and back, inevitably, to Arslan.

Combining a sweeping, operatic plot with subtly observed characters, Maggie Shipstead gives us a novel of stunning intensity and deft psychological nuance. Gripping, dramatic, and brilliantly conjured, Astonish Me confirms Shipstead's range and ability and raises provocative questions about the nature of talent, the choices we must make in search of fulfillment, and how we square the yearning for comfort with the demands of art.
Astonish Me: A Novel
by Maggie Shipstead
Overall Review:
All the books I have read that have a ballerina as a main character, I have liked. I even liked the movie Black Swan, though at times I wanted to run from the room with my hands clapped over my ears...it was scary! Astonish Me reminded me of Black Swan in all the good ways. It had the twisted romance (but not the lesbian lovers), the hard training and discipline, and the longing for perfection and fulfillment. There was a little bit of flipping back and forth between time periods, but not enough to confuse me. The main characters are often described in intimate detail, I learned of their joys, sorrows, and fears as I read.
There were many different subjects that were addressed in this novel--first love, despair, dedication, marriage. I think what impacted me the most though was the emphasis the author put on never giving up on what you love and care about. If you have always been a runner, and you feel most satisfied and fulfilled when you are running, why would you stop? The same goes for many things in life, and the ballet dancers in this book paint a perfect picture of this principle.
Content Analysis:
Profanity/Language: 3 religious exclamations; 5 mild obscenities; 1 anatomical term; 5 F-word derivatives.
Violence/Gore: None
Sex/Nudity: Adults kiss; sex is referenced several times; sexual curiosity in adults and teens is mentioned throughout the book; one brief sex scene between adults is described with no explicit detail; two characters have a mature discussion regarding sex; gay lifestyles are mentioned briefly; a character is involved in a marital affair, with no detail given; a man is referred to as "sexy".
Mature Subject Matter:
Gender identity issues.
Alcohol / Drug Use:
Smoking marijuana mentioned; some drug use involving cocaine; adults drink.
Reviewed By Lydia