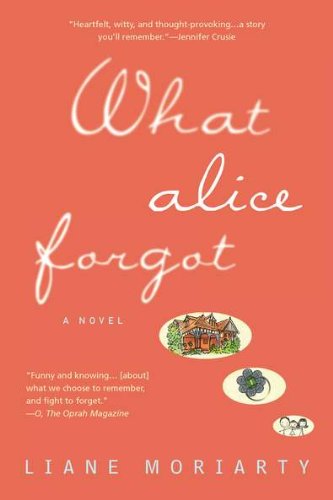 Publisher's Note:
From the author of the #1 New York Times bestseller, THE HUSBAND'S SECRET...

A "cheerfully engaging"* novel for anyone who's ever asked herself, "How did I get here?"
Alice Love is twenty-nine, crazy about her husband, and pregnant with her first child.
So imagine Alice's surprise when she comes to on the floor of a gym (a gym! She HATES the gym) and is whisked off to the hospital where she discovers the honeymoon is truly over — she's getting divorced, , she has three kids, and she's actually 39 years old. Alice must reconstruct the events of a lost decade, and find out whether it's possible to reconstruct her life at the same time. She has to figure out why her sister hardly talks to her, and how is it that she's become one of those super skinny moms with really expensive clothes. Ultimately, Alice must discover whether forgetting is a blessing or a curse, and whether it's possible to start over…
What Alice Forgot
by Liane Moriarty
Overall Review:
After reading this book I had a few thoughts I really wanted to share with others readers. First, I think I now have a legitimate fear of losing my memory. I mean, how terrifying would that be?! I suppose there are different levels of memory loss. I know there are things that have happened to me, conversations I have had, people I have seen that I have no recollection of, but if I had years cut out of my memory? Wait...even weeks, days, half a day...that would drive me crazy! My second thought, what is it with people named Alice losing their memory? Still Alice by Lisa Genova is a wonderful book about a woman's early-onset dementia.
All right, on to my thoughts about this book, before I forget them...Having read The Husband's Secret a while ago and having really enjoyed it, I knew if this book was even remotely similar, I would like it. This book isn't a mystery in the slightest, but it holds a certain thriller-feel; you never know what is around the corner and it keeps you on the edge of your seat until the last page. I will be the first to admit that I read so much I often forget what a book is about even if I read it a month ago and quite liked it. I have a feeling I will remember the storyline of What Alice Forgot. By the way, if you were curious? The scientific name for the fear of losing your memory is Mnemophobia.
Content Analysis:
Profanity/Language: 4 religious exclamations; 11 mild obscenities; 7 F-word derivatives.
Violence/Gore: A car crash kills a character, no explicit detail is given; a woman suffers multiple miscarriages.
Sex/Nudity: An affair is suspected; adults kiss; one brief sex scene between adults is mentioned with no explicit detail.
Mature Subject Matter:
Divorce, infertility, miscarriages, early-onset dementia.
Alcohol / Drug Use:
Adults drink; cocaine use mentioned.
Reviewed By Lydia