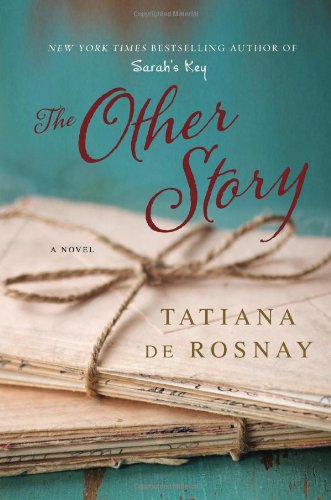 Publisher's Note:
Vacationing at a luxurious Tuscan island resort, Nicolas Duhamel is hopeful that the ghosts of his past have finally been put to rest… Now a bestselling author, when he was twenty-four years old, he stumbled upon a troubling secret about his family – a secret that was carefully concealed. In shock, Nicholas embarked on a journey to uncover the truth that took him from the Basque coast to St. Petersburg – but the answers wouldn't come easily.

In the process of digging into his past, something else happened. Nicolas began writing a novel that was met with phenomenal success, skyrocketing him to literary fame whether he was ready for it or not – and convincing him that he had put his family's history firmly behind him. But now, years later, Nicolas must reexamine everything he thought he knew, as he learns that, however deeply buried, the secrets of the past always find a way out.

Page-turning, layered and beautifully written, Tatiana de Rosnay's THE OTHER STORY is a reflection on identity, the process of being a writer and the repercussions of generations-old decisions as they echo into the present and shape the future.
The Other Story
by Tatiana de Rosnay
Overall Review:
Having read Tatiana de Rosnay's three previous novels published in the United States, I thought I knew what I was in for when I picked up her newest book. Not so much. I was pleasantly surprised when several years ago, my grandmother suggested I read Sarah's Key. It was an intense, lovely book that has since been made into a movie. I wasn't quite as fond of the next two books de Rosnay wrote, but perhaps I was a bit spoiled by her wonderful first novel--or so I thought. Now I am beginning to wonder if her first book and its success were somewhat of a fluke. But then again, I am only one person with one opinion, so if you have the chance to read The Other Story, you might keep an open mind and try it. Who knows, it might become your new favorite book!
Contrary to the style of her previous books, this one doesn't have a mystery vibe to it. There are some areas that aren't revealed until the end of the book, but these "secrets" didn't have me on the edge of my seat, waiting to discover what was to come in the next few pages. The one thing I did like about this book was the main character's profession. He is an author, and much of the story centers on his growing fame. This was a little entertaining at times as I watched him stumble a couple of times and then pick himself up and brush himself off, but I can't say that in these instances I was cheering him on.
Content Analysis:
Profanity/Language: 3 mild obscenities; 3 religious profanities; 5 F-word derivatives.
Violence/Gore: Two characters drown, no detail is given; a verbal threat is made.
Sex/Nudity: An unwed couple gets pregnant; adults kiss; an affair is mentioned but no detail given; two characters send sexually explicit text messages to each other, some including nude pictures; sexual pleasure is mentioned and briefly described; a man and woman are mentioned to have sex, with no detail given.
Mature Subject Matter:
Adultery, partying, deceit.
Alcohol / Drug Use:
Adults drink frequently; adults smoke.
Reviewed By Lydia