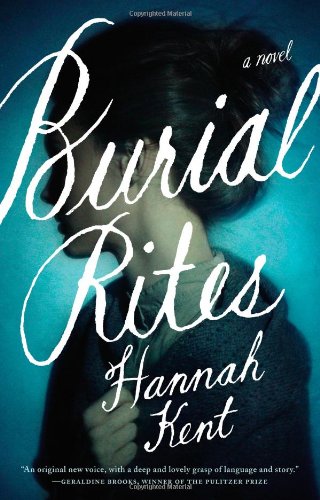 Publisher's Note:
A brilliant literary debut, inspired by a true story: the final days of a young woman accused of murder in Iceland in 1829.

Set against Iceland's stark landscape, Hannah Kent brings to vivid life the story of Agnes, who, charged with the brutal murder of her former master, is sent to an isolated farm to await execution.

Horrified at the prospect of housing a convicted murderer, the family at first avoids Agnes. Only Tóti, a priest Agnes has mysteriously chosen to be her spiritual guardian, seeks to understand her. But as Agnes's death looms, the farmer's wife and their daughters learn there is another side to the sensational story they've heard.

Riveting and rich with lyricism, BURIAL RITES evokes a dramatic existence in a distant time and place, and asks the question, how can one woman hope to endure when her life depends upon the stories told by others?
Burial Rites
by Hannah Kent
Overall Review:
"It seems everyone I love is taken from me and buried in the ground, while I remain alone. Good thing, then, that there is no one left to love. No one left to bury."
Set in nineteenth-century Iceland, Burial Rites is based on the true story of Agnes Magnusdottir, a young woman awaiting execution for committing a heinous crime. Australian novelist Hannah Kent made headlines when she landed a seven-figure deal for the novel. Stellar reviews and a movie in development piqued my interest and I gladly picked up a copy.
Burial Rites is a haunting, heartbreaking and simply stunning work. Kent writes in lyrical prose, frequently using vivid details and artistic terminology to describe her characters and their settings. The book shifts between first and third person yet still maintains good pacing. Each page is packed with raw emotion, symbolism and a deep sense of foreboding. Kent provides a unique perspective having lived in Iceland and she effortlessly blends well-researched historical fact with fiction so that the tale remains realistic. Burial Rites is mesmerizing and will leave a lasting impression. I know I can't stop thinking about it!
Content Analysis:
Profanity/Language: 9 religious exclamations, 7 mild obscenities, 1 religious profanity, 11 derogatory names, 4 scatological terms, 1 f-word derivative
Violence/Gore: Multiple verbal threats and implied occurrence of violence involving a woman with bruises on her body; murder details are mentioned frequently by characters throughout the book; several incidents of violence involving a character being pushed, slapped and animals being slaughtered; a few scenes involving blood and gore, specifically a childbirth; six pages of intense violence involving a graphic murder.
Sex/Nudity: A few incidents of kissing; sexual references including a reference to masturbation; multiple implied or reported incidents of sexual activity; sexual activity without explicit details between adults and later between an adult and a minor; two paragraphs including detailed descriptions of sex.
Mature Subject Matter:
Murder, capital punishment, adultery, abandonment, death of family members, domestic abuse.
Alcohol / Drug Use:
Characters drink in several scenes; minors drink.
Reviewed By Rachel