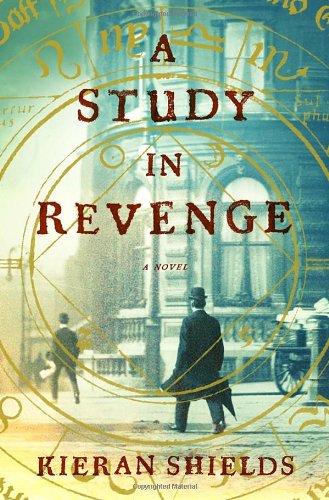 Publisher's Note:
In 1893, a trail of ashen footprints leads Deputy Archie Lean to the body of a murdered thief. The man's exposed flesh has been horribly burned and occult symbols mark the nearby walls. Most troubling of all is what Lean witnessed two days earlier: this same man being lowered into his grave without a burn mark on him. Once again, the Portland, Maine, police deputy must turn to the brilliant criminalist Perceval Grey for help.

Grey, a half-Abenaki Indian detective, faces problems of his own after agreeing to an elderly tycoon's death-bed plea to find his long-lost granddaughter. The dying man's family is less interested in the missing heiress than with the recent theft of an obscure heirloom carved with curious symbols. As the family's shadowy history is revealed, the three mysteries intersect to draw Lean and Grey into a maze of murder, deceit, and revenge. Each deadly new clue points toward an even greater puzzle—one that will pit Grey against a devious murderer in a race to unlock an ancient and mysterious power.
A Study in Revenge
by Kieran Shields
Overall Review:
A Study in Revenge is the second book by Kieran Shields that features Percival Grey and his adventures in 19th century Maine. Filled with wonderful detail about the time period and combined with good characters, the story is an interesting mystery.
Unfortunately the story lags a little; it really seems like this story is an extended appendix of Shields' first book in the series, The Truth of All Things. This makes this story unenjoyable unless you have read the previous book.
Because the writing is good and the characters and time period are well-researched, the book should appeal to fans of the historical mystery/crime drama, but the first book must be read to understand or enjoy the second.
Content Analysis:
Language/Profanity: 2 religious exclamations; 21 mild obscenities; 2 religious profanities; 2 derogatory names; 2 scatological words.
Violence/Gore: Character is murdered with a hand gun, later body is exhumed and burned--gory and descriptive in nature; character is murdered by long range rifle shot; several hand to hand fight scenes (mainly fist fights), one fight with a knife: characters are beaten badly and one is stabbed; re-accounting of a previous investigation in which a character commits suicide by lighting themselves on fire and then jumping off a cliff, non-descriptive; neighborhood is destroyed by a flood killing several people; accounts of battles in the Revolutionary War.
Sex/Nudity: Several romantic or flirtatious scenes among adults; one reported sexual encounter without explicit details.
Mature Subject Matter:
Murder, blackmail, racism, slavery, U.S. Civil War, bigotry.
Alcohol / Drug Use:
Smoking and drinking by adults.
Reviewed By Matthew