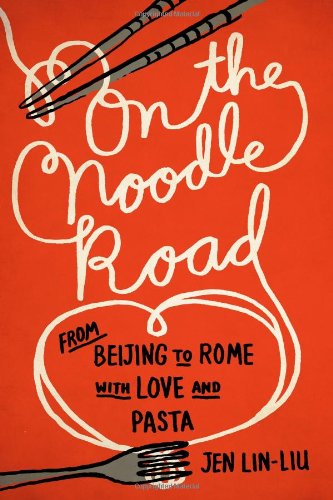 Publisher's Note:
A food writer travels the Silk Road, immersing herself in a moveable feast of foods and cultures and discovering some surprising truths about commitment, independence, and love.

Feasting her way through an Italian honeymoon, Jen Lin-Liu was struck by culinary echoes of the delicacies she ate and cooked back in China, where she'd lived for more than a decade. Who really invented the noodle? she wondered, like many before her. But also: How had food and culture moved along the Silk Road, the ancient trade route linking Asia to Europe—and what could still be felt of those long-ago migrations? With her new husband's blessing, she set out to discover the connections, both historical and personal, eating a path through western China and on into Central Asia, Iran, Turkey, and across the Mediterranean.

The journey takes Lin-Liu into the private kitchens where the headscarves come off and women not only knead and simmer but also confess and confide. The thin rounds of dough stuffed with meat that are dumplings in Beijing evolve into manti in Turkey—their tiny size the measure of a bride's worth—and end as tortellini in Italy. And as she stirs and samples, listening to the women talk about their lives and longings, Lin-Liu gains a new appreciation of her own marriage, learning to savor the sweetness of love freely chosen.
On the Noodle Road: From Beijing to Rome, with Love and Pasta
by Jen Lin-Liu
Overall Review:
If you have any interest at all in the history of noodles, then this book should fit your fancy. We American's are well acquainted with spaghetti and Ramen, but Jen takes us on a wild ride to the distant lands of China and Rome to discover what exactly a noodle is, and how it has shaped the way we eat. Her writing is, in a word, delicious. My mouth watered at times as she described carb laden meals that centered on noodles and savory sauces. I also learned that the kebob isn't traditionally food on a stick.
Even though this book held a lot of facts, figures, and history, it was not boring and overly educational. Rather, it was a fun and entertaining read that was light and witty. I enjoyed the author's writing style, and I hope she writes fiction someday--she has the potential to write some wonderful stories that don't come from her own experiences entirely. One thing that I wasn't expecting from this book was the point Jen made about her heritage, and trying to track down her roots. At times it seemed that she was a bit frustrated that she couldn't "identify herself" as just one race or ethnicity, but in the end I felt like she might have found some peace despite her struggles. If you are even mildly interested in food and where it originated, give this book a try. It was such a fun non-fiction book.
Content Analysis:
Profanity/Language: 5 religious exclamations; 1 mild obscenity.
Violence/Gore: A massacre is mentioned, with no detail; animals are briefly described to be slaughtered, blood is mentioned.
Sex/Nudity: One brief sexual reference; adults embrace; an affair is mentioned.
Mature Subject Matter:
Married life, identity.
Alcohol / Drug Use:
Adults drink frequently.
Reviewed By Lydia