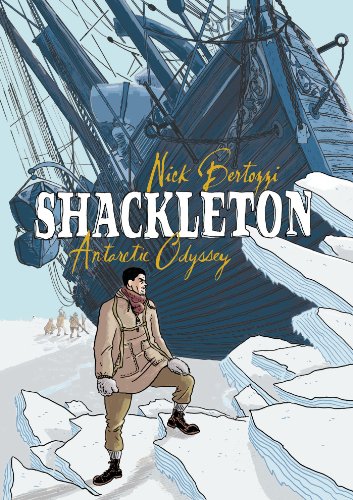 Publisher's Note:
Ernest Shackleton was one of the last great Antarctic explorers, and he led one of the most ambitious Antarctic expeditions ever undertaken. This is his story, and the story of the dozens of men who threw in their lot with him - many of whom nearly died in the unimaginably harsh conditions of the journey. It's an astonishing feat - and was unprecedented at the time - that all the men in the expedition survived.
Shackleton's expedition marked the end of a period of romantic exploration of the Arctic and the Antarctic, and this is as much a book about the encroaching modern world as it is about travel. But Nick Bertozzi has documented this remarkable journey with such wit and fiendish attention to detail that it's impossible not to get caught up in the drama of the voyage. Shackleton is a phenomenal accompaniment to Bertozzi's earlier graphic novel about great explorers, Lewis & Clark.
This book was sent to Compass Book Ratings for review by First Second Books
Shackleton: Antarctic Odyssey
by Nick Bertozzi
Overall Review:
Shackleton is a fascinating story about a courageous team of men. Nick Bertozzi's artwork is the perfect form for this story--his pen and ink drawings lend themselves wonderfully to the historical retelling as he depicts the stark landscape with simple lines and no color.
Bertozzi's extensive research and sensitivity to the story shine through in both the graphics and text. What repeatedly looks like a hopeless situation is counterbalanced by the positive nature of Bertozzi's dialogue. He has captured these men's resilience and bravery in a wonderful way. It's a beautiful tribute.
I really appreciated Bertozzi's ability to take a complicated story and make it accessible. He inserts a little map every few pages so the reader can keep their bearings, and informs us of the team's progress without adding so much detail that it gets confusing. I only wish he'd been able to go into a little more detail. I'm so glad to know more about Ernest Shackleton, and I'd love to experience more of Bertozzi's work.
Content Analysis:
Profanity/Language: 5 mild obscenities.
Violence/Gore: A character's frostbitten toes are amputated with no detail; blood is found on the ice where an orca has killed a seal; characters hunt for food with no blood shown.
Sex/Nudity: None
Mature Subject Matter:
Extreme hardship from exposure to elements.
Alcohol / Drug Use:
Characters smoke tobacco and drink socially.
Reviewed By Leslie