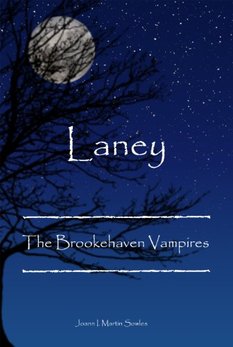 Publisher's Note:
In a small college town in Northern California, Laney Alexander leads a regular, uneventful life–that is, until the charming and alluring Oliver Knight enters her world. Who is this gorgeous and mysterious stranger? Or, rather, what is he? As Laney's sophomore year of college begins, so does an unbelievable adventure–including a love she didn't know she longed for. She soon learns that Oliver is not ordinary, nor is the rest of his family, including a sister who openly hates her and a brother who will stop at nothing for revenge. As she fights for her life, and Oliver's love, Laney discovers that the fictional world of vampires isn't so fictional after all. Nobody is safe, especially Laney, Oliver's most important priority, and he will stop at nothing to protect her. With her mortality at risk, and a commitment revealed that she, without a doubt, knows she wants, Laney's life takes a thrilling and terrifying turn…
This book was sent to Compass Book Ratings for review by the Author
Laney (The Brookehaven Vampires)
by Joann I. Martin Sowles
Overall Review:
I opened this book, and I think it attached itself to my hand! I could not put it down! I kept thinking I had hit a stopping spot, only to find myself drawn in for more. A fun and action packed adventure full of mystery and romance. The characters became people to me and I felt a keen sense of interest in what was happening to them. The descriptions were such that they helped me to see what the characters looked like—and who they were—without stopping or slowing down the pace. I was completely involved in the story and can't stop thinking about it even now. Joann I. Martin Sowles adds a fun breath of fresh air for fans of vampire paranormal fantasy books. The only drawback: Cliffhanger!! Now I am aching to read the rest of the series!

Content Analysis:
The flip side to this super fun story: there was quite a bit of language sprinkled throughout. It was never overwhelming or extreme (no 'rated R' words, and maybe only one every couple of pages), but it was present—especially when the main character was irritated or angry (or super excited).There was a very intense scene in a bar where a character becomes very drunk and his actions and words become rude and obscene.
The two main characters become very close and there is a lot of kissing. A character admits to sleeping with her boyfriend. Two main characters discuss taking their relationship further (often).
As this is a book with vampires, there is quite a bit of violence. Mostly it's running from the 'bad' vampires who are trying to destroy them. There is one scene where the main character has her eyes closed so as not to see a disturbing deed, but describes the sounds (she throws up after). The chase scenes are edge-of-your-seat intense!
Mature Subject Matter:
***
Alcohol / Drug Use:
***
Reviewed By Emily