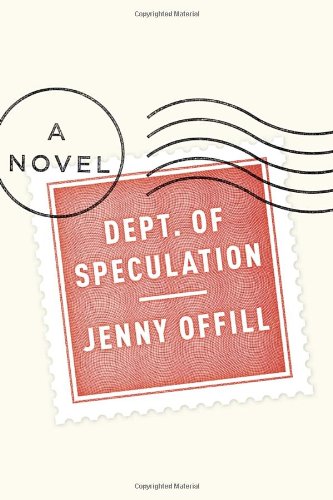 Publisher's Note:
Dept. of Speculation is a portrait of a marriage. It is also a beguiling rumination on the mysteries of intimacy, trust, faith, knowledge, and the condition of universal shipwreck that unites us all.

Jenny Offill's heroine, referred to in these pages as simply "the wife," once exchanged love letters with her husband postmarked Dept. of Speculation, their code name for all the uncertainty that inheres in life and in the strangely fluid confines of a long relationship. As they confront an array of common catastrophes—a colicky baby, a faltering marriage, stalled ambitions—the wife analyzes her predicament, invoking everything from Keats and Kafka to the thought experiments of the Stoics to the lessons of doomed Russian cosmonauts. She muses on the consuming, capacious experience of maternal love, and the near total destruction of the self that ensues from it as she confronts the friction between domestic life and the seductions and demands of art.

With cool precision, in language that shimmers with rage and wit and fierce longing, Jenny Offill has crafted an exquisitely suspenseful love story that has the velocity of a train hurtling through the night at top speed. Exceptionally lean and compact, Dept. of Speculation is a novel to be devoured in a single sitting, though its bracing emotional insights and piercing meditations on despair and love will linger long after the last page.
Dept. of Speculation
by Jenny Offill
Overall Review:
It seems that lately readers have been bombarded with a plethora of books that focus on infidelity and adultery. While I think most everyone would agree that divorce, separation, cheating, and lies are all sad and hurtful things, they are also very real--especially in this day and age. Personally, when I am going through a crisis or troubled time, I gravitate towards books--be they fiction or non-fiction--that touch on the subject of whatever I am experiencing. It feels good to be able to relate to something, even if it is a fictionalized version. So, if you or someone you know has had a bit of trouble lately in your married life, The Dept. of Speculation may resonate deeply with you. Although the woman and her husband depicted in this book may seem to have it all together, they do not. Their love that may (or may not) have been thriving when they first met is going down the drain. "The wife" and her husband must work to try to repair what has been broken.
As I was reading this book, I got the distinct feeling that the narrator was trying to distance herself from everyone, including the reader. She is obviously afraid to connect with anyone, perhaps because she has been hurt deeply in the past. We never even get to know what her name is, she simply refers to herself as "the wife". Despite the fact that her name is never revealed, I felt like I got to know this woman well. I was able to look inside her mind and see how she processed her thoughts and feelings in regards to some really deep subjects.
Although the ending of this story may seem predictable, it is not. This book was an all-around good read that I would recommend to anyone looking for a relate-able story, or a way to feel better about their marriage.
Content Analysis:
Profanity/Language: 3 mild obscenities; 4 religious profanities; 5 scatological words; 15 F-word derivatives.
Violence/Gore: None
Sex/Nudity: An adult is mentioned to be having an ongoing affair; a couple is mentioned to have sex with no sexual innuendo; a couple is mentioned to be "abstaining from sex"; a man is referred to as "sexy"; an adult couple kisses.
Mature Subject Matter:
Adultery, marital issues/health.
Alcohol / Drug Use:
Adults drink; drug use mentioned twice.
Reviewed By Lydia