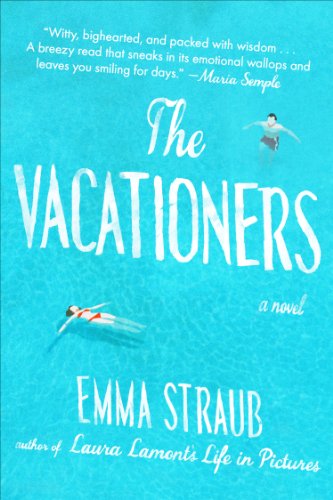 Publisher's Note:
An irresistible, deftly observed novel about the secrets, joys, and jealousies that rise to the surface over the course of an American family's two-week stay in Mallorca.

For the Posts, a two-week trip to the Balearic island of Mallorca with their extended family and friends is a celebration: Franny and Jim are observing their thirty-fifth wedding anniversary, and their daughter, Sylvia, has graduated from high school. The sunlit island, its mountains and beaches, its tapas and tennis courts, also promise an escape from the tensions simmering at home in Manhattan. But all does not go according to plan: over the course of the vacation, secrets come to light, old and new humiliations are experienced, childhood rivalries resurface, and ancient wounds are exacerbated.

This is a story of the sides of ourselves that we choose to show and those we try to conceal, of the ways we tear each other down and build each other up again, and the bonds that ultimately hold us together. With wry humor and tremendous heart, Emma Straub delivers a richly satisfying story of a family in the midst of a maelstrom of change, emerging irrevocably altered yet whole.
The Vacationers: A Novel
by Emma Straub
Overall Review:
Vacations are meant to be fun, carefree, and relaxing, right? They are supposed to be a break from reality, perhaps a faraway place where the traveler can leave their troubles behind and find solace and healing in some warm rays of sun and too much to eat. The Vacationers is a tale of a family thrown together a bit uncomfortably on a trip to a distant island that sounds like paradise, but might not be after all. Take a family that is all kinds of dysfunctional, rich, and selfish, and you have a fairly good example of the Post family, whom we will be joining on their 14 day vacation on the fine Balearic island of Mallorca.
This book had a very modern and trendy feel to it. I think it is a prime example of a fun summer read and it is quick and witty to boot. The cover will catch your eye even if you don't remember the title, so you won't have any excuse not to pick this title up. Emma Straub is the author of two previous novels, neither of which I have read, but after finishing this book I will be sure to keep an eye out for them. This is a relate-able story that will keep you entertained until the last page.
Review of Advance Reader Copy
Content Analysis:
Profanity/Language: 5 religious exclamations; 9 mild obscenities; 7 scatological words; 7 anatomical terms; 16 F-word derivatives
Violence/Gore: A woman declares that she wants to hurt a man by cutting off an appendage.
Sex/Nudity: A man and woman having sex and sleeping together are mentioned with some brief detail twice; a character mentions sex "getting better with age"; a woman mentioned sleeping with a man; a husband is mentioned to cheat on his wife; a gay couple is mentioned once in a non-sexual way; a teen girl mentions a goal of losing her virginity before a certain date; a couple sleeps together before marriage; a man and woman are mentioned to touch in a sexual way several times; oral sex is mentioned in brief detail once; a minor is mentioned to have sex, no detail is given; a man is mentioned to have a mistress; one instance of adults touching areas normally covered by a bathing suit; adults kiss several times; a painting of a nude woman is mentioned.
Mature Subject Matter:
Divorce, adultery.
Alcohol / Drug Use:
Adults drink frequently; drugs referred to once; smoking crack referred to in a joke.
Reviewed By Lydia