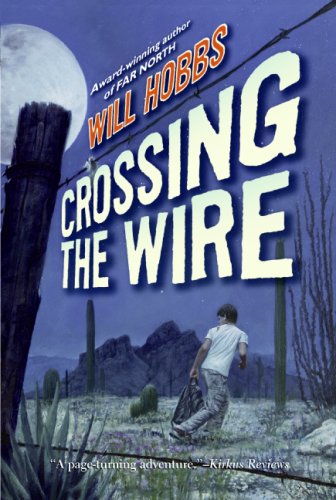 Publisher's Note:
When falling crop prices threaten his family with starvation, fifteen-year-old Victor Flores heads north in an attempt to "cross the wire" from Mexico into the United States so he can find work and send money home. But with no coyote money to pay the smugglers who sneak illegal workers across the border, Victor must struggle to survive as he jumps trains, stows away on trucks, and hikes grueling miles through the Arizona desert. Victor's journey is fraught with danger, freezing cold, scorching heat, hunger, and dead ends. It's a gauntlet run by millions attempting to cross the border. Through Victor's often desperate struggle, Will Hobbs brings to life one of the great human dramas of our time.
Crossing the Wire
by Will Hobbs
Overall Review:
It's not often that a young adult book can hook a reader with action and high adventure and teach valuable social lessons at the same time. Crossing the Wire is such a book. Nail-biting action and scary situations for our hero make this a page-turner. At the same time, Will Hobbs delivers just enough to make readers think deeply without beating them over the head with political rhetoric. We are left to make our own decisions, but now we can do so with more information.
I find myself still thinking about the characters and issues in Crossing the Wire days after finishing it. The writing is superb, calling on all my senses to help me experience Victor's heartbreaks and successes. I highly recommend this book for anyone who loves a good adventure story with a truly heroic protagonist.
Content Analysis:
Profanity/Language: None
Violence/Gore: People are threatened with guns (twice); a character jumps from a moving train with no serious injuries; story of a person being killed by a train; characters are kicked multiple times with no serious injuries; a character appears to have been badly beaten; a character is badly scratched by thorns; a character is shot at with no injuries; a character plays a violent, realistic video game; a character falls on a rock, which becomes lodged in his skull; two characters are slightly injured by a rock slide; a story is related about an incident in which four people were killed; a person is said to have suffocated; some intense scenes of danger.
Sex/Nudity: None
Mature Subject Matter:
Death of a family member, gang violence, illegal immigration.
Alcohol / Drug Use:
Inhalant abuse; drug running.
Reviewed By Leslie