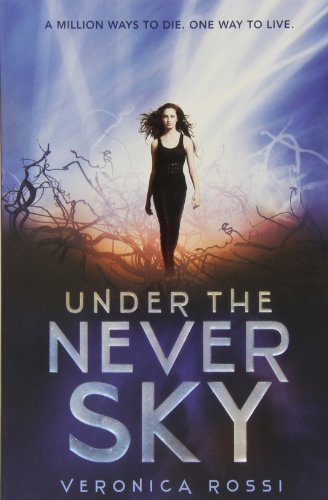 Publisher's Note:
Fighting to survive in a ravaged world, a Dweller and a Savage form an unlikely alliance in New York Times bestselling author Veronica Rossi's "unforgettable dystopian masterpiece" (Examiner.com).
Exiled from her home, the enclosed city of Reverie, Aria knows her chances of surviving in the outer wasteland—known as The Death Shop—are slim. Then Aria meets an Outsider named Perry. He's wild—a savage—and her only hope of staying alive. A hunter for his tribe in a merciless landscape, Perry views Aria as sheltered and fragile—everything he would expect from a Dweller. But he needs Aria's help too; she alone holds the key to his redemption.
In alternating chapters told in Aria's and Perry's voices, Under the Never Sky subtly and powerfully captures the evolving relationship between these characters and sweeps readers away to a harsh but often beautiful world. Continuing with Through the Ever Night and concluding with Into the Still Blue, the Under the Never Sky trilogy has already been embraced by readers in twenty-six countries and been optioned for film by Warner Bros.
Supports the Common Core State Standards
Under the Never Sky
by Veronica Rossi
Overall Review:
Gripping, intimate, riveting, romantic --Under the Never Sky by Veronica Rossi is all these things and a little bit more. Because of the initial dystopian setting, there is a tendency to classify this as a young adult dystopian novel and to start comparing it to other recent novels of that genre. That is actually a disservice to this book; it is somewhat unique. Although it has a sci-fi and dystopian element to it, the story is more about the characters and their individual journeys; at times it even adopts elements of the typical fantasy quest novel, with characters picked up along the way and sanctuaries reached. The character of Aria is strong, but it is Peregrine who really makes the story soar and brings layers to the love story. The novel has current societal relevancy in that there are also some subtle questions posed regarding engagement with the real world versus a world built around a virtual reality.
Under the Never Sky is the first book in a trilogy and unlike most other young adult novels I have read recently, I am definitely going to be reading book 2, Through the Ever Night!
Content Analysis:
Profanity/Language: 1 mild obscenity; 2 derogatory names; 1 scatological word.
Violence/Gore: Report of a fist fight; report of violence resulting in deaths; report of death by illness; report of rioting resulting in deaths; implied, imminent sexual threat; (brief scene) characters fight with knives, punching, etc. resulting in broken jaw, death w/ mention of blood; brief scene of fighting involving punching, kicking, arrows, biting with deaths and destruction of property; kidnapping; animals are hunted for food upon various occasions; report of cannibals; report of death by storm and cannibals; brief fight scene with arrows and knives resulting in death, one by decapitation, non-descriptive; injury by burning; brief fight scene with arrows, knives, resulting in deaths and injury, mention of blood; death by fire, non-detailed; character looks through dead bodies for someone; brief knife fight with injuries and mention of blood; brief fight between close relatives resulting in the death of one by slit throat, non-detailed.
Sex/Nudity: Characters flirt; implied, imminent sexual threat/danger; character experiences menstruation for first time with brief discussion; upon several separate occasions characters have feelings of attraction for others; some sexual innuendo; implied sexual activity; tight clothing of a character is noticed by another; characters embrace; hand holding; kissing of hand; characters kiss passionately; characters (ages 17 & 18) have sex, no details.
Mature Subject Matter:
Death, scientific experimentation/ethics, kidnapping.
Alcohol / Drug Use:
Incidental drinking with meals; report that a father was often drunk; a character becomes drunk on purpose.
Reviewed By Cindy