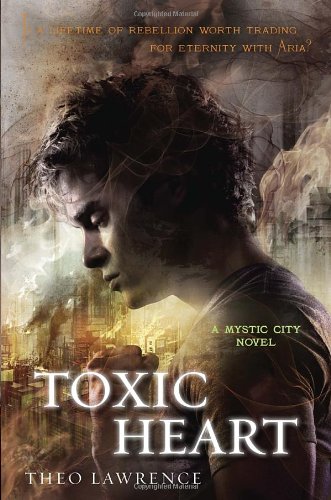 Publisher's Note:
The second MYSTIC CITY novel . . . it's Romeo & Juliet in a dystopic Manhattan.

A city in flames. A trust betrayed. A perfect love destroyed. Has Aria lost Hunter, her one true love?

Ever since rebellion broke out in Mystic City, pitting the ruling elite against the magic-wielding mystics, Aria has barely seen her boyfriend. Not surprising, since Hunter is the leader of the mystic uprising, and he'll do whatever it takes to win freedom for his people—even if that means using Aria.

But Aria is no one's pawn. She believes she can bring the two warring sides together, save the city, and win back the Hunter she fell in love with.

Before she can play peacemaker, though, Aria will need to find the missing heart of a dead mystic. The heart gives untold powers to whoever possesses it, but finding it means seeking out a fierce enemy whose deepest desire is for Aria to be gone—forever.
This book was sent to Compass Book Ratings for review by Random House
Toxic Heart: A Mystic City Novel
by Theo Lawrence
Overall Review:
After Aria and Hunter have proven their love for each other at all costs, you'd expect that love to be impenetrable. Unfortunately during times of war, you never know what will happen. Aria is being trained to be able to protect herself and Hunter is now the leader of the mystics. Everyone's stressed and focused on finding peace. If you think you can predict what will happen in this book, I can almost guarantee you'll be surprised. Lawrence is constantly throwing curve balls from beginning to end with both the plot and erratic characters. The story broaches some serious moral issues, primarily equality, and it's interesting to see the various perspectives shown from a few different characters. It's full of intense action and betrayal but also loyalty and magic. An excellent follow up to Mystic City and Lawrence sets things up for an incredible sequel. Fans of Matched and Divergent will enjoy this series.
Content Analysis:
Profanity/Language: 7 religious exclamations; 5 mild obscenities; 2 derogatory names; 9 scatalogical words; 4 anatomical terms.
Violence/Gore: Character jokes about wanting girls to fight; characters executed by government if they don't follow rules; character kidnapped at gunpoint; verbal threats; many second hand reports of characters dying in war from bombing and shooting including young children's parents; character remembering friend getting shot; character gets hurt while training to fight; punching; character kicked in the groin; characters face slapped; character bound and gagged; characters shot; character knocked unconscious; attack including tear gas and shooting; mystic character receives injection with intent to kill; character cuts another's arms in attempt to help heal; mystic character explodes; characters burned very badly, some occurring in death; house raided with fires probably resulting in deaths; murder and attempted murder.
Sex/Nudity: Blowing kiss; kissing; sitting closely on motorcycle; holding hands; touching shoulder; kissing forehead, wrist, neck and cheek; arm around; hugging; touching face and back; cuddling; character naked for shower; character wears low-cut dress; male character staring at female character's cleavage.
Mature Subject Matter:
Dementia, stealing, death of parents, war, prejudice, torture, segregation, murder.
Alcohol / Drug Use:
Character asks another character if he's drunk; reference to father being drug dealer; character jokingly asks another if they want drugs; drinking wine with dinner; character is reported to have overdosed on drugs as a cover up; reference to someone previously being drug addict; character offered drugs; characters smoking cigarettes.
Reviewed By Jenny