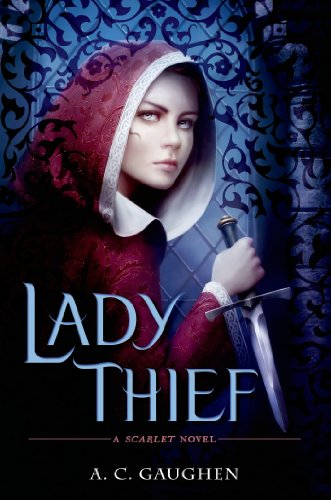 Publisher's Note:
Scarlet's true identity has been revealed, but her future is uncertain. Her forced marriage to Lord Gisbourne threatens Robin and Scarlet's love, and as the royal court descends upon Nottingham for the appointment of a new Sheriff, the people of Nottingham hope that Prince John will appoint their beloved Robin Hood. But Prince John has different plans for Nottingham that revolve around a fateful secret from Scarlet's past even she isn't yet aware of. Forced to participate at court alongside her ruthless husband, Scarlet must bide her time and act the part of a noblewoman—a worthy sacrifice if it means helping Robin's cause and a chance at a future with the man she loves. With a fresh line of intrigue and as much passion as ever, the next chapter in Scarlet's tale will have readers talking once again.
This book was sent to Compass Book Ratings for review by Bloomsbury Children's Books
Lady Thief
by A.C. Gaughen
Overall Review:
Having enjoyed Scarlet so much, I was very anxious to get my hands on the next book in the series, Lady Thief. Scarlet's secret identity has been revealed and after being forced to marry the Tyrant, Lord Gisbourne, she also finds herself being required to join him as the royal court comes to Nottingham. As horrible as she predicted it to be, it ends up being so for different reasons than anticipated. Promises are made and more secrets are revealed as this familiar yet altered story continues. Gaugen has created such amazing characters with Robin and Scarlet, whom you can't help but love and cheer for. The fierce and terrible Gisbourne and Prince John were designed to be hated as much as you love Robin and Scarlet and this abhorrence was captured completely. The ending is an explosion of unexpected outcomes, attempting to shatter hope and cause heartbreak, but as proven over and over, Scarlet is not easily broken. The next book of the series (untitled as of now) will hopefully bring the happy ending that undoubtedly readers of this series are all dying for Scarlet and Robin to have. A familiar story with some splendid adaptations, Lady Thief will enchant many!
Content Analysis:
Profanity/Language: 16 religious exclamations; 75 mild obscenities; 5 religious profanities; 5 derogatory names.
Violence/Gore: Many (53) brief incidents including verbal threats; animal staked and left as threat to character; character wants to kill another; character says another "ought to be flogged" for their behavior; threatened with sword; character tells someone to kill another character; second hand report of characters being tortured; references to adults & children being murdered; characters remembering when family members died; character has nightmares of fighting in war; second hand report that character beat someone terribly; character getting held against a wall; male character kneed in the crotch; character holding hand and arm so tightly it hurts; characters slapped, punched and kneed; character bites another; mock fighting in tournament resulting in injuries; character tries to choke another; character kicks and breaks property; character attacks another; soldier hits character with sword; rotten food purposely given to people and they get sick; character's fingers cut off; character killed in fight.
Sex/Nudity: Many (57) brief incidents including hug; kiss; character playing with another's hair; cuddling; touched arm, hand and shoulders; male character stares at female character's chest; holding hands; kissed hand; arm around; walking arm in arm; male and female character sleep in same bed (they only sleep); touching face; attempted rape; characters naked in front of spouse while changing clothes and taking bath; innuendo; two unmarried girls get pregnant; husband stares at wife as she takes a bath.
Mature Subject Matter:
Stealing, attempted rape, murder.
Alcohol / Drug Use:
Character looks as if they fell drown drunk prior to falling asleep; characters drinking with meal and at party; wine given during entertainment; characters drink while visiting.
Reviewed By Jenny