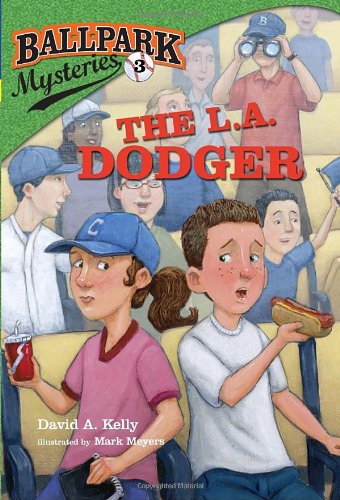 Publisher's Note:
Now batting third—book #3 in a brand-new early chapter book mystery series where each book is set in a different American ballpark!

It's spring break and Kate and Mike are off to Los Angeles to visit Kate's dad, a scout for the Dodgers. But all is not sunny in L.A.—strange things have been happening to Kate's dad. Pages have gone missing from his clipboard. He's gotten threatening phone calls. And he thinks he's being followed! Is someone after Mr. Hopkins's top secret scouting reports?

The L.A. Dodger includes a fun fact page about Los Angeles's Dodger Stadium.

Cross Ron Roy's A to Z mystery series with Matt Christopher's sports books and you get the Ballpark Mysteries: fun, puzzling whodunnits aimed at the younger brothers and sisters of John Feinstein's fans.
This book was sent to Compass Book Ratings for review by Random House
The L.A. Dodger (Ballpark Mysteries #3)
by David A. Kelly
Overall Review:
In the spirit of The Magic Treehouse, two children find themselves constantly in the midst of an adventure. But instead of a magic treehouse, or even a magic anything, all the mystery and excitement revolves around baseball! In this installment, it appears that someone is trying to get Kate's dad fired…or does it go even further than that? Does someone want to bring down the whole team? Could the L.A. Dodgers be in trouble? Kate and Mike, in the spirit of all curious children, soon discover the source of what could be the problem, but he's always one step ahead of them (hence, the 'L.A. Dodger'). Can they outsmart him and help Kate's dad keep his job (and his sanity)? The fate of the L.A. Dodgers is in the hand of two smart kids with a plan! The L.A. Dodger is a fun little mystery whose fast pace and easy reading level will bring joy to any young fan of baseball.
Content Analysis:
There are a few moments when the main characters try to catch the 'bad' guy—there is some yelling and slight 'tackling' as a backpack is grabbed. But other than that, there is absolutely nothing questionable.
Mature Subject Matter:
***
Alcohol / Drug Use:
***
Reviewed By Emily