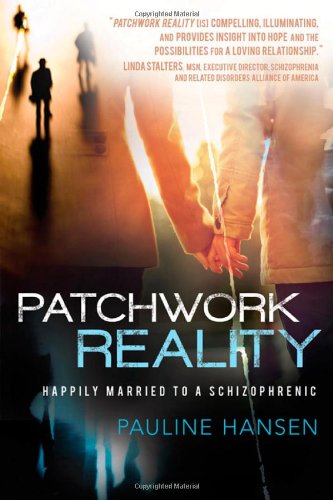 Publisher's Note:
Through a series of dreams and delusions, Curtis Hansen becomes convinced that he and his wife, Pauline, are part of an intricate game devised for the entertainment of wealthy onlookers. To win, the couple must stay together despite a series of temptations and trials designed to break up their marriage. After playing The Game with Curtis for nine arduous years, Pauline makes a shocking discovery. Read the riveting account of her decade in the dark and her return to reality after Curtis is diagnosed with paranoid schizophrenia.
This book was sent to Compass Book Ratings for review by Cedar Fort
Patchwork Reality
by Pauline Hansen
Overall Review:
This creative non-fiction book had just the right amount of believability mixed with the unbelievable. Not having dealt with paranoid schizophrenia personally, I was incredulous at the things the author and her husband went through, but it also felt extremely real. I sympathized with the author and her loss of control as her husband became more and more controlling via "the game" and its rules.
There were parts of the book that I thought could have used a little bit more clarification, such as when her husband refused to take medication for his illness, but had a "90 percent difference" in his symptoms anyway. Regardless, this was still a strong story.
This book dealt with real world issues and helped me to understand mental illness in a way that inspired me to be more accepting than judgmental. It is not light reading, but is a good read for adults who want to know more about the world around them and learn some of the details of living with a person who has severe mental illness.
Content Analysis:
Profanity/Language: None
Violence/Gore: None
Sex/Nudity: Mention of woman posing naked; reference to a "boob" job when a woman is wearing a bikini; in one sentence a man thinks woman wants to shower with him; woman cheats on her husband without details being mentioned.
Mature Subject Matter:
Mental illness, unemployment, emotional child abuse, marriage infidelity.
Alcohol / Drug Use:
A man refuses to take his prescribed medication.
Reviewed By Megan