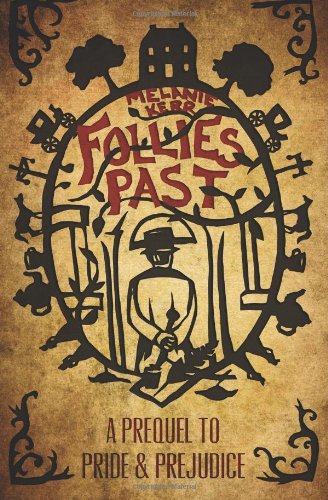 Publisher's Note:
"I must now mention a circumstance which I would wish to forget myself, and which no obligation less than the present should induce me to unfold to any human being..." So begins Mr. Darcy to lay before Elizabeth his faithful narrative of Mr. Wickham's villainy toward his sister, Georgiana. The facts he sets out are brief but potent. They contain a story unto themselves, and that story is the subject of this book. Taking its facts from Austen's own words, Follies Past opens almost a year before the opening of Pride and Prejudice itself, at Pemberley, at Christmas. Fourteen-year-old Georgiana has just been taken from school and is preparing to transfer to London in the spring. It follows Georgiana to London, to Ramsgate and into the arms of the charming and infamous Mr. Wickham. To read this book is to step back into the charming world of Jane Austen's England, to pass a few more hours with some of her beloved characters, sympathetically portrayed as they might have been before ever they came to Netherfield, and to discover a host of new characters each with engaging histories of their own. Authentic in its use of language and meticulously researched, it is a truly diverting entertainment.
This book was sent to Compass Book Ratings for review by Petticoat Press
Follies Past: A Prequel to Pride and Prejudice
by Melanie Kerr
Overall Review:
In Follies Past: A Prequel to Pride and Prejudice, first-time novelist Melanie Kerr breathes new life into Jane Austen's world. Well-written and extensively researched, Kerr captures the essence and style of nineteenth century England. The tale focuses on some of Austen's supporting cast -- Georgiana Darcy, Caroline Bingley and Anne de Bourgh -- and places Mr. Darcy and Mr. Bingley in a smaller, secondary role.
Kerr works hard to match details and plotlines from Pride and Prejudice, but also makes Follies Past her own. There are several new characters to cheer for, particularly two with a romantic storyline I really enjoyed. While there are many prequels and sequels relating to Jane Austen's classics, Follies Past is one I heartily recommend reading!
Content Analysis:
Profanity/Language: 1 derogatory name.
Violence/Gore: A verbal threat is issued; a horse-riding accident is reported; a character is struck.
Sex/Nudity: Several incidents of kissing on the hand or cheek; a few reported affairs.
Mature Subject Matter:
Adultery, betrayal and deception.
Alcohol / Drug Use:
Mention of drinking and gambling; a character finds a man hung-over.
Reviewed By Rachel