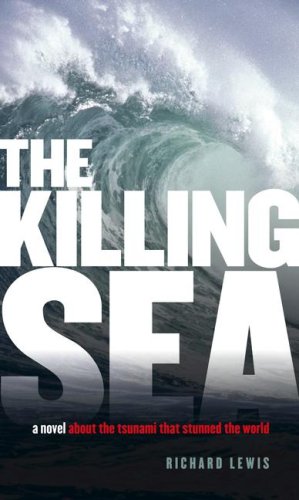 Publisher's Note:
Aceh, Indonesia. December 2004 .

Two teens find each other surrounded by the destruction left in the wake of the most devastating tsunami the world has ever seen: Ruslan, a native of Aceh, in search of his missing father, whom he hopes has not been added to the fallen; and Sarah, an American girl, who has already lost her mother and is now struggling to find medical treatment for her sick brother.

Only together can they find what they're searching for.
The Killing Sea
by Richard Lewis
Overall Review:
The Killing Sea is thrilling, scary, tragic, and hopeful. Richard Lewis truly has a gift for invoking intense empathy from his readers. Most young readers didn't know about or feel any concern for victims of the terrifying Indonesian tsunami of 2004. That will not be the case after reading this fictionalized account. They will relate to the self-absorbed main character, and find themselves learning to think and care about others.
Lewis also has a gift for describing horrifying scenes in a way that gives just enough detail to paint a picture. I was on the edge of my seat as I read this book, but I never felt that Lewis went too far in his descriptions, and surely he must have seen some awful things as he helped with recovery and clean-up efforts. I got the picture, but didn't feel traumatized or bludgeoned with gratuitous gore. It certainly could have gone that way.
For young people who may live in fear of natural disasters, this book tells a sweet (although sad) story, and ends hopefully. My only complaint is that the first third of the book is so intense that the search for family members and rescue by contrast is a little slow--and that's the bulk of the story, but overall an enjoyable, educational read.
Content Analysis:
Profanity/Language: 25 religious exclamations; 3 mild obscenities; 1 scatological word.
Violence/Gore: A character's bone is badly broken with some detail; a parent slaps a child's face; a character is swept away by a whirlpool; a character is trapped under a log and drowned; several characters are found dead, described in some detail; a character is shot at with no injury; a character is attacked by a snake with no injury; a character is hit in the stomach with a rifle butt; two characters scuffle--one is knocked unconscious; a character is beaten and tied up.
Sex/Nudity: A person is found dead with all their clothes stripped off; a character tries to cover herself after losing her clothes; two characters kiss briefly (twice); two characters hug.
Mature Subject Matter:
Death of family members, recovery of dead bodies.
Alcohol / Drug Use:
Adults drink alcohol and smoke.
Reviewed By Leslie