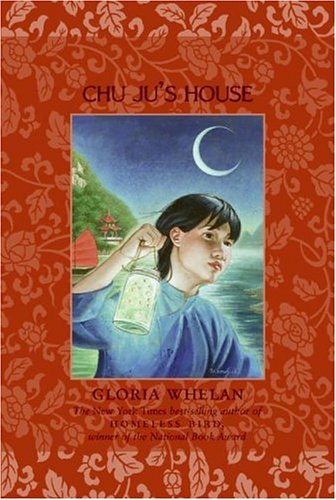 Publisher's Note:
One girl too many . . .
When a girl is born to Chu Ju's family, it is quickly determined that the baby must be sent away. After all, the law states that a family may have only two children, and tradition dictates that every family should have a boy. To make room for one, this girl will have to go.
Fourteen-year-old Chu Ju knows she cannot allow this to happen to her sister. Understanding that one girl must leave, she sets out in the middle of the night, vowing not to return.
With luminescent detail, National Book Award-winning author Gloria Whelan transports readers to China, where law conspires with tradition, tearing a young woman from her family, sending her on a remarkable journey to find a home of her own.
Chu Ju's House
by Gloria Whelan
Overall Review:
Chu Ju is a sweet character who displays a strong sense of familial duty. Her story takes place in present-day rural China, giving readers a sense of how removed from the modern world those remote areas are. Whelan does a wonderful job of describing traditions and a way of life that we may have thought were all but extinct today. Until a character put on low-rise jeans, I kept wondering if I was reading historical fiction.
The story is interesting, and this is a very quick read. The book has value in the sense that it's educational, but the writing isn't fantastic. Whelan's strength is that she can describe something completely foreign to most readers in few words, leaving more room for action and plot development. However, her spare writing style fails her when it comes to making characters believable or creating a connection between them and the reader.
I recommend Chu Ju's House to young people who are interested in Chinese culture. Children who were adopted out of China might find some comfort if they're wondering how their parents could have given them up. But for adventure and exciting plot, I'd look elsewhere.
Content Analysis:
Profanity/Language: None
Violence/Gore: Report of an explosion in which several children were killed with no details; a child displays bruises and is known to have been beaten by an employer; a character is pushed down with no injuries; a child relates a story of a beating by an adult with few details.
Sex/Nudity: None
Mature Subject Matter:
Political upheaval, abandonment of children.
Alcohol / Drug Use:
None
Reviewed By Leslie