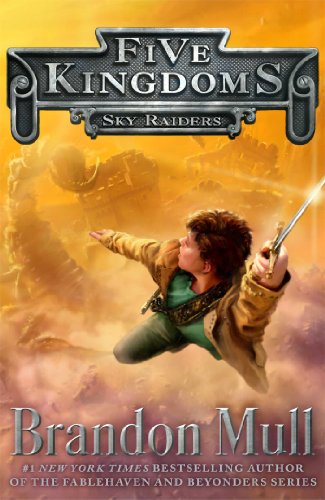 Publisher's Note:
Adventure awaits in the Five Kingdoms—come and claim it in this start to a new series from the #1 New York Times bestselling author of the Fablehaven and Beyonders series.

Cole Randolph was just trying to have a fun time with his friends on Halloween (and maybe get to know Jenna Hunt a little better). But when a spooky haunted house turns out to be a portal to something much creepier, Cole finds himself on an adventure on a whole different level.

After Cole sees his friends whisked away to some mysterious place underneath the haunted house, he dives in after them—and ends up in The Outskirts.

The Outskirts are made up of five kingdoms that lie between wakefulness and dreaming, reality and imagination, life and death. It's an in-between place. Some people are born there. Some find their way there from our world, or from other worlds.

And once you come to the Outskirts, it's very hard to leave.

With the magic of the Outskirts starting to unravel, it's up to Cole and an unusual girl named Mira to rescue his friends, set things right in the Outskirts, and hopefully find his way back home…before his existence is forgotten.
Sky Raiders
by Brandon Mull
Overall Review:
Brandon Mull has come out with a new series called Five Kingdoms. Sky Raiders is the first in the series and Mull has an ambitious publishing schedule that will make it so readers don't have to wait as long for the next books. Readers who are already fans of Mull's other fantasy series will not be disappointed. In fact, this series might be even better.
Positive notes on this book include the reader becoming curious and interested fairly quickly. The Outskirts is a world that seems to have all kinds of interesting characteristics and wonders. Mull uses dialogue almost too realistic for eleven-year olds. So real that it was all too easy picturing the two eleven-year olds in this reviewer's home having similar conversations.
Young readers will really enjoy this series, but adults who are not expecting hard core fantasy will also delight in sharing the adventure. Sit back and enjoy a trip to the Outskirts.
Content Analysis:
Profanity: None
Violence/Gore: Fantasy violence including magical stranglings, stabbings, and throwings; characters shoot others with arrows; characters stab other characters and fantasy animals with various weapons; one instance of a character having his arm covered in gore from stabbing a creature; animals bite and scratch at people; pre-teen characters are hit or pushed by adults; people and fantasy creatures are killed, non-detailed, except as mentioned above; kidnapping of children.
Sex/Nudity: Girl kisses boy on cheek; characters have crushes.
Mature Subject Matter:
Slavery, kidnapping.
Alcohol / Drug Use:
None
Reviewed By Susan