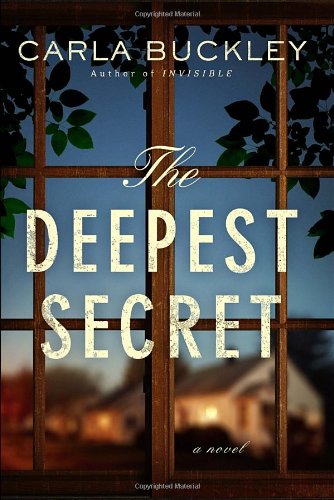 Publisher's Note:
For fans of Jodi Picoult, Kim Edwards, and William Landay, The Deepest Secret is part intimate family drama, part gripping page-turner, exploring the profound power of the truths we're scared to face . . . about our marriages, our children, and ourselves.

Eve Lattimore's family is like every other on their suburban street, with one exception. Her son Tyler has a rare medical condition that makes him fatally sensitive to light, which means heavy curtains and deadlocked doors protect him during the day and he can never leave the house except at night. For Eve, only constant vigilance stands between an increasingly restless teenage son and the dangers of the outside world.

Until the night the unthinkable happens. When tragedy strikes, it becomes clear that this family is not the only one on the quiet cul-de-sac that is more complicated than it appears. And as Eve is forced to shield her family from harm, there are some crises she cannot control—and some secrets that not even love can conceal.

Deeply moving and stunningly suspenseful, The Deepest Secret is a novel of rare power—a story about hope and forgiveness, about the terrifying ways our lives can spin out of control and the unexpected sacrifices that may save us.
The Deepest Secret
by Carla Buckley
Overall Review:
Imagine being a teenager forced to live in the dark--literally, the dark. You can't be exposed to the light of day because of a disease you were born with, and so to stay alive, you must stay indoors, do school work over the Internet, and put special creams on your skin so you don't burn from the minimal amount of sun you are exposed to. This sounds like torture to me, but somehow Tyler Lattimore has made it to his teen years despite this handicap. His mother played a huge role in his protection thus far, but I had to wonder how much of it was protecting her son, and how much was the sense of control it gave her. I'd like to give Eve the benefit of the doubt, but as I learned more about how she operated, I became suspicious of her motives.
If you enjoy Jodi Picoult, you will enjoy Carla Buckley. I was kept fully entertained throughout this whole book and I didn't want it to end. I rarely say that about a book, so this is high praise coming from me. With the book being narrated by several different characters, it could be a little difficult to keep tabs on what was going on in whose life, but this added an interesting dimension to the story, as the reader is able to get an idea of what everyone is thinking and feeling. Not fully a mystery, but with lots of twists and turns, The Deepest Secret may just keep you up late until you finish the last page. Trust me, it's worth it.
Content Analysis:
Profanity/Language: 12 mild obscenities; 3 religious profanities; 4 derogatory names; 2 scatological words; 16 F-word derivatives.
Violence/Gore: A young character is run over by a car and killed; a dead person's body is found, the body is described in brief detail several times and the violent nature of the way character was killed; a character goes missing, suspected to be kidnapped; a character breaks items in anger.
Sex/Nudity: Adults kiss; a man is in an intimate relationship with a woman other than his wife; an unwedded couple are mentioned to live together; sex is referred to several times; a boy describes noticing a girl's body in a slightly sexual way; parents have a mature discussion regarding sex with their child; a teen is mentioned to be sexually active.
Mature Subject Matter:
Divorce, partying, murder.
Alcohol / Drug Use:
Minors drink; adults drink; minors mentioned to smoke weed; adults mentioned to smoke weed.
Reviewed By Lydia