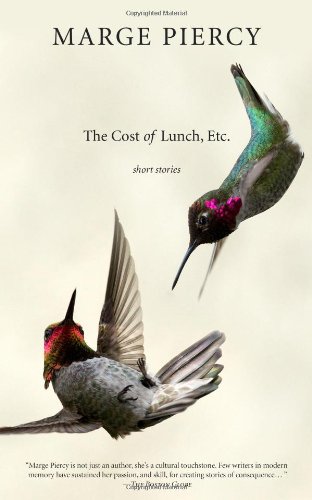 Publisher's Note:
In this collection of short stories, bestselling author Marge Piercy brings us glimpses into the lives of everyday women moving through and making sense of their daily internal and external worlds. Keeping to the engaging, accessible language of Piercy's novels, the collection spans decades of her writing along with a range of locations, ages, and emotional states of her protagonists. From the first-person account of hoarding and a girl's narrative of sexual and spiritual discovery to the recounting of a past love affair, each story is a tangible, vivid snapshot in a varied and subtly curated gallery of work. Whether grappling with death, familial relationships, friendship, sex, illness, or religion, Piercy's writing is as passionate, lucid, insightful, and thoughtfully alive as ever.
The Cost of Lunch, Etc.: Short Stories
by Marge Piercy
Overall Review:
I have learned to allow myself to read short stories. I'm not sure why I grew to avoid them in the first place--perhaps I had a bad experience once. Whatever the case, I have already read a couple of collections this year that I enjoyed. I saw the intriguing cover of Marge Piercey's newest book, and I didn't even care that it was a collection of short stories. In fact, I think I was a little bit pleased to have the opportunity to read little blips of creativity from an author once again.
I still have faith in the short story, but I will admit that there was only one story in this particular book that struck my fancy. It's called "Saving Mother from Herself". Even if you don't get around to reading all of the stories in this book, I encourage you to seek out a bookstore or library and take a quick peek at this one. It was funny and smart in just the right ways. Maybe you will get to reading and enjoy yourself so much, you just can't stop. That's one of the things I love about books: their ability to pull you in and make you forget yourself and just be a part of whatever the author has imagined.
Content Analysis:
Profanity/Language: 5 mild obscenities; 2 derogatory names; 3 F-Word derivatives.
Violence/Gore: A depressed character is mentioned to have hung himself; death is mentioned several times.
Sex/Nudity: Adults kiss; a man is mentioned to experiment with porn, no detail is given; couples are aware of the fact that their significant other is involved in an affair; an affair is mentioned but no detail is given; divorce is mentioned several times; a young girl is mentioned to be attracted to her much older teacher; sex is referred to multiple times.
Mature Subject Matter:
Cancer, divorce, love.
Alcohol / Drug Use:
Adults drink frequently; drug use is mentioned once, no specific details are given.
Reviewed By Lydia