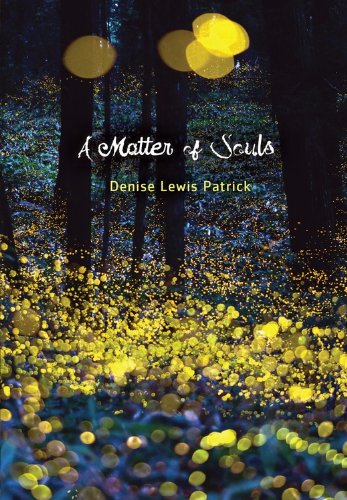 Publisher's Note:
"From the shores of Africa to the bowels of a transatlantic ship to a voting booth in Mississippi to the jungles of Vietnam, all human connection is a matter of souls.



In this stirring collection of short stories, Denise Lewis Patrick considers the souls of black men and women across centuries and continents. In each, she takes the measure of their dignity, describes their dreams, and catalogs their fears.
This book was sent to Compass Book Ratings for review by Lerner Publishing Group
A Matter of Souls
by Denise Lewis Patrick
Overall Review:
Denise Lewis Patrick captures the essence of a wide variety of African American experiences in this beautiful collection of short stories. Spanning the history of Black people on the American continent, we see through the eyes of men, women, and children who have been and continue to be mistreated and put down. We experience bitterness, despair, love, and hope as people struggle to deal with inequality and brutality.
The only thing I felt was truly missing in these stories was the viewpoint of a present-day character struggling with the bigotry that unfortunately still exists everywhere. But the stories that Patrick does tell are haunting. These ideas will stay with the reader for a long time, providing food for thought and, hopefully, social change, one attitude at a time.
Content Analysis:
Profanity/Language: 3 religious exclamations; 7 mild obscenities; 3 derogatory names; 2 scatological words; 4 anatomical terms.
Violence/Gore: A news report is heard stating that dogs were set on a group of people with no details; a person falls and cuts herself on broken glass with little blood; in an extended scene (5 pgs), a person finds her son beaten and dying with some detail; in an extended scene (2 pgs), a person is attacked, beaten, and property is destroyed with graphic detail; a person is hit in the head with a pot with no injuries; several people are known to have been beaten; several people are shot and killed with few details; a child views the shooting deaths of several people with some details; a person tells the story of a gang-related death of a loved one with few details; a person is reported to have been stabbed to death; several people take their own lives with little detail; a person is knocked out by a blow to the head; a person cuts another person with a knife.
Sex/Nudity: Two people flirt and walk arm-in-arm; a woman is known to provide companionship for men with no details; characters kiss briefly (three times); two people "console" each other--later, a child is born; an minor is known to have had sex with several minor partners; people are seen naked being sold at auction; a person thinks vaguely about intimacy with his wife; a woman's breasts are mentioned.
Mature Subject Matter:
War, slavery, abandonment, suicide, gambling.
Alcohol / Drug Use:
Adults smoke and drink alcohol.
Reviewed By Leslie