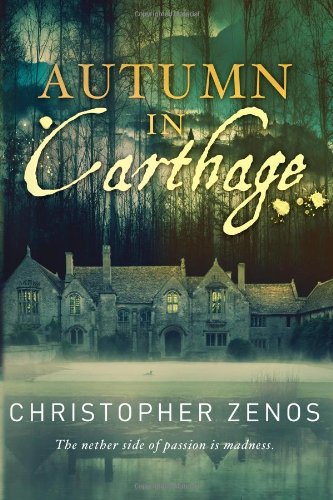 Publisher's Note:
The nether side of passion is madness.

Nathan Price is a college professor with crippling impairments, seeking escape from his prison of necessity. One day, in a package of seventeenth-century documents from Salem Village, he stumbles across a letter by his best friend, Jamie, who had disappeared six months before. The document is dated 1692—the height of the Witch Trials. The only potential lead: a single mention of Carthage, a tiny town in the Wisconsin northern highland.

The mystery catapults Nathan from Chicago to the Wisconsin wilderness. There, he meets Alanna, heir to an astonishing Mittel-European legacy of power and sacrifice. In her, and in the gentle townsfolk of Carthage, Nathan finds the refuge for which he has long yearned. But Simon, the town elder, is driven by demons of his own, and may well be entangled in Jamie's disappearance and that of several Carthaginians. As darkness stretches toward Alanna, Nathan may have no choice but to risk it all...

Moving from the grimness of Chicago's South Side to the Wisconsin hinterlands to seventeenth-century Salem, this is a story of love, of sacrifice, of terrible passions—and of two wounded souls quietly reaching for the deep peace of sanctuary.
This book was sent to Compass Book Ratings for review by Cadence Group
Autumn in Carthage
by Christopher Zenos
Overall Review:
Looking for a well-written book that isn't exactly a mystery, but has a slightly mysterious feel? Look no further. Autumn in Carthage is almost certain to fit your fancy. I can't really put this book into a category. It isn't really a historical novel, as much of it is set in present day, and it isn't your regular work of fiction by any means. This book brings many different elements to the table, without being overwhelming and bogging the reader down with facts.
This novel takes place in modern day Chicago and Wisconsin, but at times the reader is transported to the seventeenth century, where a whole new cast of characters are introduced. If you are interested in the Salem Witch Trials, I would encourage you to pick up this book. I know I felt that I had not only read an interesting and solid story, but I had taken in a good bit of history as well. Make sure to prepare yourself for a story that holds not only facts and history, but also a little bit of magic and the supernatural.
Content Analysis:
Profanity/Language: 3 religious exclamations; 6 mild obscenities; 2 derogatory names; 4 anatomical terms; 5 F-Word derivatives
Violence/Gore: A character is mentioned to die from a heart attack; a car accident is mentioned, with casualties; a character is badly injured, the injury is suspected to be a death threat; a bloody gun wound is described briefly; a trial and hanging are mentioned several times; a character disappears and is searched for.
Sex/Nudity: A man and woman are mentioned to make love; adults kiss; one short sex scene is described briefly with no explicit detail.
Mature Subject Matter:
Magic, cancer.
Alcohol / Drug Use:
Adults drink; smoking pot is mentioned.
Reviewed By Lydia