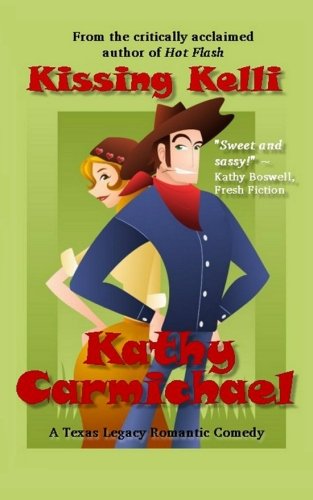 Publisher's Note:
Rodeo champion and wealthy rancher, Bobby Gray Nelson, is used to women setting out to lasso him. But when he meets feisty Kelli Palmer, she refuses him on every count. He's always up for a challenge and is determined to woo this beautiful veterinarian who he thinks could be his soul mate. Kelli Palmer doesn't believe love is in the chute for her. She's devoted herself to the animals she cares for and the family she adores. So when her sister claims dibs on the handsome cowboy, Kelli reins in her attraction and tells him to skedaddle. Losing is not an option for this gorgeous cowboy. He comes up with a 5-step plan to place his brand on Kelli's heart. The problem is, he can't even make it to the first step. Never fear, though. He's got a Plan B. Can Kelli stand her ground -- even after his toe-curling kiss? Romantic Comedy
This book was sent to Compass Book Ratings for review by CreateSpace
Kissing Kelli
by Kathy Carmichael
Overall Review:
Cute, quick, sweet read that all ages will enjoy. Readers will love Kelli's no-nonsense strength, Bobby Gray's persistence, and the fun, romantic parry between these two characters that are destined to fall in love. Unfortunately though, while a very good-natured and pleasant read, it left a lot to be desired in character and story development. The author seems disconnected to the youthful characters she portrays, filling her story with old sayings, little known words, and character traits that would seem more fitting for middle-aged characters. Overall, though, it's a cute read that would be enjoyed by all readers.
Content Analysis:
There is only one mild profanity in this book.
There were a few very mild instances of sexual content, but they were very mild--a kiss, a comment. Nothing worrisome or inappropriate at all.
There are no mature themes. I would recommend this book to adult women, as I think they would enjoy it the most. My age group recommendation of 18+ is only because of the storyline, and that it's about young adults and adults.
Mature Subject Matter:
***
Alcohol / Drug Use:
***
Reviewed By Melissa