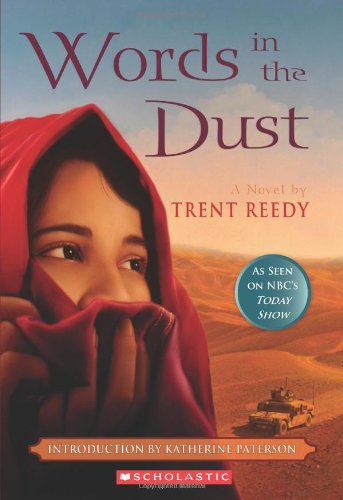 Publisher's Note:
Winner of the Christopher Medal and a "heart-wrenching" Al Roker's Book Club selection on the Today Show.

Zulaikha hopes. She hopes for peace, now that the Taliban have been driven from Afghanistan; a good relationship with her hard stepmother; and one day even to go to school, or to have her cleft palate fixed. Zulaikha knows all will be provided for her--"Inshallah," God willing.

Then she meets Meena, who offers to teach her the Afghan poetry she taught her late mother. And the Americans come to her village, promising not just new opportunities and dangers, but surgery to fix her face. These changes could mean a whole new life for Zulaikha--but can she dare to hope they'll come true?
Words in the Dust
by Trent Reedy
Overall Review:
I am always eager to learn more about the people of Afghanistan and other war-torn third-world countries--how they live and survive circumstances that appear to be intolerable to me. I always come away from stories like this thinking about ways my lifestyle must seem intolerable to them.
Despite the grim setting, Words in the Dust is a tale of hope, forgiveness, and love. Zulaikha is a sweet, devoted young woman who beats incredible odds to overcome illiteracy, poverty, and gender inequalities. It's all the more touching to learn that her story is based on that of a real girl.
I highly recommend this beautifully told story to anyone who has a desire to think about the greater world around them--and to be changed for doing so.
Content Analysis:
Profanity/Language: 2 derogatory names.
Violence/Gore: Characters throw rocks at another character with no injuries; a character shoves another character; in an extended scene (2 pgs), a character is beaten and killed by the Taliban; a character appears to have been beaten; a character's severe burns are described in detail, later the character dies from those injuries; a character hits his wife, knocking her down and bloodying her nose.
Sex/Nudity: A character implies that certain people take advantage of girls; wedding night activities are referred to vaguely; a character speaks vaguely of her husband's sexual attention; a badly injured woman is seen naked from the waist up.
Mature Subject Matter:
War, physical and emotional abuse, bullying, loss of family members.
Alcohol / Drug Use:
None
Reviewed By Leslie