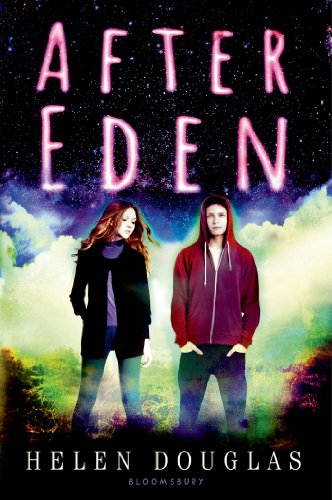 Publisher's Note:
The day Eden met Ryan changed her world forever. Actually, not just her world. Ryan has time traveled from the future to save the world. In a few weeks, Eden's best friend Connor will discover a new planet—one where human life is possible. The discovery will make him famous. It will also ruin the world as we know it. When Ryan asks Eden for help, she must choose between saving the world and saving her best friend's greatest achievement. And a crush on Ryan complicates things more than she could have imagined. Because Connor is due to make the discovery after the girl he loves breaks his heart. That girl is Eden.

Grounded in a realistic teen world with fascinating sci-fi elements, After Eden is a heart-pounding love triangle that's perfect for dystopian fans looking for something new to devour.
This book was sent to Compass Book Ratings for review by Bloomsbury Children's Books
After Eden
by Helen Douglas
Overall Review:
Eden's just living her life, about to finish high school and enjoying her time with friends. Her ordinary life takes an exciting turn when Ryan moves into her town and takes an interest in her. There's something not quite right about Ryan though and eventually Eden discovers that he's a time traveler attempting to prevent a planet from being discovered. It's forbidden for Eden to know about Ryan's mission, but when she figures things out, she jumps in to help and it ends up being much more difficult than expected.
Eden is a really likeable character. This isn't because Helen Douglas made her out to be the perfect character, rather she is average thus being very relatable to many. I'm sure many readers will fall in love with the handsome, kind Ryan. Eden's group of friends are great too; I like how Douglas developed the supporting characters of the story. If you expect this story to be straight forward without suspense or surprises, don't be fooled. Douglas really throws you for a loop on various occasions. After Eden is a fun, clever sci-fi teen romance that I really enjoyed. An excellent read!
Content Analysis:
Profanity/Language: 5 religious exclamations; 7 mild obscenities; 1 derogatory name; 6 anatomical terms.
Violence/Gore: Few (8) brief incidents including mention that character might've been killed; second hand report of death; reference to suicide and attempted murder in a story; character injured and character's parents die in accident; reference to dinosaurs becoming extinct; second hand report of millions of people dying; character pushed; character punched.
Sex/Nudity: Many (41) brief incidents including slow dancing; kissing; character grabs another's butt; cuddling; holding hands; arm around; touched hand; massaging head; insinuated making out; sitting on lap; playing with hair; touching face; touched knee; innuendo reference to characters "fumbling in the dark with boys"; suggesting a character is homosexual; characters joking about being naked (not actually naked); character's bra showing; female character's white shirt gets wet and becomes see-through; character jokes about turning tricks; character wears revealing skirt that shows garter; character wears dress that shows cleavage; innuendo; reference to unmarried teen getting pregnant.
Mature Subject Matter:
Illegal driving, death of a parent, war, starvation, underage drinking, drunk driving.
Alcohol / Drug Use:
Several incidents of underage drinking at parties; a few incidents of adult characters drinking while hanging out; drunk driving; adult character smokes; arcade smelled of beer and smoke; doing drugs insinuated.
Reviewed By Jenny