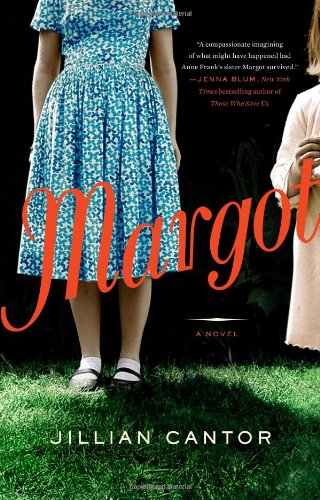 Publisher's Note:
Anne Frank has long been a symbol of bravery and hope, but there were two sisters hidden in the annex, two young Jewish girls, one a cultural icon made famous by her published diary and the other, nearly forgotten.

In the spring of 1959, The Diary of Anne Frank has just come to the silver screen to great acclaim, and a young woman named Margie Franklin is working in Philadelphia as a secretary at a Jewish law firm. On the surface she lives a quiet life, but Margie has a secret: a life she once lived, a past and a religion she has denied, and a family and a country she left behind.

Margie Franklin is really Margot Frank, older sister of Anne, who did not die in Bergen-Belsen as reported, but who instead escaped the Nazis for America. But now, as her sister becomes a global icon, Margie's carefully constructed American life begins to fall apart. A new relationship threatens to overtake the young love that sustained her during the war, and her past and present begin to collide. Margie is forced to come to terms with Margot, with the people she loved, and with a life swept up into the course of history.
Margot: A Novel
by Jillian Cantor
Overall Review:
Anne Frank has always been a person of interest to me. Even at a very young age I was fascinated by her story and the horrors she must have survived. This obsession with all things Anne has led to me picking up any book I can find on the concentration camps and survivors of the Holocaust. It is amazing to me that humans could have survived such horrors. I am ashamed to admit that I didn't even realize Anne's older sister Margot existed. Sure, I knew she had a sibling, but I didn't think anything of it. I didn't wonder what had happened to that older sister, if she had survived or died.
Margot was a wonderfully written book. I cannot say enough positive things about it. It started me thinking and made my curiosity arise. How sad to have had to live through such a time as the Holocaust, but if Anne's sister had survived and been able to build a new life for herself, what would that look like? Jillian Cantor did a magnificent job of putting together what I think is a feasible account of one possible scenario. If you read any book this year about the Holocaust or Anne Frank, let it be this one!
Content Analysis:
Profanity/Language: 2 religious exclamations; 3 mild obscenities.
Violence/Gore: Abuse of minors and adults is mentioned twice; horrible living conditions mentioned.
Sex/Nudity: Adults kiss; minors kiss several times; sex is alluded to but nothing is described.
Mature Subject Matter:
Concentration camps, love.
Alcohol / Drug Use:
Adults smoke; adults drink.
Reviewed By Lydia