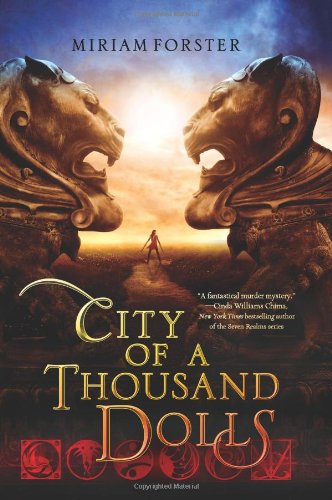 Publisher's Note:
The girl with no past, and no future, may be the only one who can save their lives.
Nisha was abandoned at the gates of the City of a Thousand Dolls when she was just a little girl. Now sixteen, she lives on the grounds of the isolated estate, where orphan girls apprentice as musicians, healers, courtesans, and, if the rumors are true, assassins. She makes her way as Matron's errand girl, her closest companions the mysterious cats that trail her shadow. Only when she begins a forbidden flirtation with the city's handsome young courier does she let herself imagine a life outside the walls. Until one by one, girls around her start to die.
Before she becomes the next victim, Nisha decides to uncover the secrets that surround the girls' deaths. But by getting involved, Nisha jeopardizes not only her own future in the City of a Thousand Dolls—but also her life.
City of a Thousand Dolls
by Miriam Forster
Overall Review:
After China implemented the two-child policy, many girls were being abandoned by their parents so a city was created just for them, the City of a Thousand Dolls. While most girls were brought to the city as infants, Nisha arrived at age six. Because it is expensive to run this city, the girls are given lessons in specific areas and when they reach a certain age, money can be donated to the city and they in turn either become apprentices or wives to the donor.
The protagonist, Nisha, is a strong, brave girl with a lot of integrity. When she discovers things in the city are turning badly, she puts her life at risk to set things straight and solve the mysteries that are unfolding. Between the pieces of Nisha's past that are slowly being revealed and the troubles in the city, surprises abound. Several of the characters are full of layers that add to the intrigue. As such a well-rounded book with friendship, fighting, and romance tied into a fantasy, this novel should appeal to a wide audience.
Content Analysis:
Profanity/Language: 2 derogatory names.
Violence/Gore: Many (30) brief incidents including potential beating or death; thinking about death; threat in a letter; verbal threat; clothing had blood on it (insinuated that it's there from character hurting someone); stories of death; second hand report of characters' parents dying; character recalling seeing dead body; second hand report of suicide; stories of assassins; second hand reports of murder; second hand report of character being beaten; recalling babies being killed; second hand report of character getting poisoned & killed; character gets scratched by a cat; character attacked; character punched when thought being attacked; deadly snake sent to kill character and nearly killed cat instead; punching; character attempted to attack another; character cut with dagger (non-life threatening injury results); second hand reports of cats hunting; character broke into room, vandalized it and left threat; character committed suicide; attempted murder.
Sex/Nudity: Few (8) brief incidents including kissing; hugging and arm around; character being carried by another; touched shoulder; characters trained to be good "bedmates"; mention of husbands having affairs.
Mature Subject Matter:
Slavery, child abandonment, child slaughter, anorexia (insinuated), murder, suicide
Alcohol / Drug Use:
None
Reviewed By Jenny