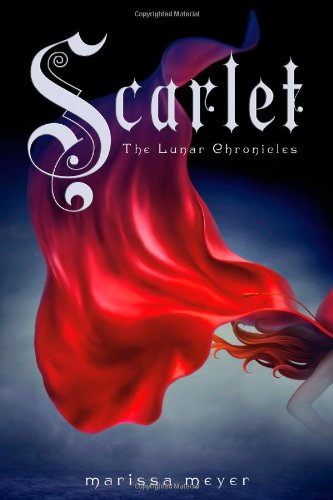 Publisher's Note:
Cinder, the cyborg mechanic, returns in the second thrilling installment of the bestselling Lunar Chronicles. She's trying to break out of prison--even though if she succeeds, she'll be the Commonwealth's most wanted fugitive.

Halfway around the world, Scarlet Benoit's grandmother is missing. It turns out there are many things Scarlet doesn't know about her grandmother or the grave danger she has lived in her whole life. When Scarlet encounters Wolf, a street fighter who may have information as to her grandmother's whereabouts, she is loath to trust this stranger, but is inexplicably drawn to him, and he to her. As Scarlet and Wolf unravel one mystery, they encounter another when they meet Cinder. Now, all of them must stay one step ahead of the vicious Lunar Queen Levana, who will do anything for the handsome Prince Kai to become her husband, her king, her prisoner. An NPR Best Book of 2013
Scarlet: The Lunar Chronicles
by Marissa Meyer
Overall Review:
These are a few of my favorite things: dystopian fiction, fairy tale retellings, cyborgs, and aliens. Scarlet has them all! This exciting second installment in The Lunar Chronicles starts up where Cinder left off, and carries on at breakneck speed. The storytelling is wonderful, and the twisted plot is brilliant.
Cinder adds a couple of fantastic new characters to her team, and these people do not disappoint. We get to see plenty of the characters we came to care about in Cinder, and quickly become attached to these newcomers as well. Feisty, strong female protagonists who aren't totally sure of themselves but are willing to do their best to right the wrongs being done to the human race are my kind of heroines. I couldn't put Scarlet down!
Content Analysis:
Profanity/Language: 1 derogatory name.
Violence/Gore: A character punches another character with no injuries (3 times);a character displays injuries caused by torture; a character makes a surgical incision with a small amount of blood; a character participates in competitive street fighting with some blood and minor injuries (twice); a character is seriously cut by broken glass with some blood; a character is said to have purposely blinded another person; a person is known to have committed suicide; two characters fight in an extended scene (3 pgs) with moderate injuries; a character views pictures of a critically injured person; a character violently kills another person with some blood; a character is killed with a great deal of blood; fantastical creatures kill people by ripping their throats out with a great deal of blood; a character is attacked and gruesomely threatened but not injured in an extended scene (5 pgs); an extended (6 pgs) battle with weapons takes place with one death and several serious injuries; video is seen of a bloodied, injured person running a brief, violent battle with few details takes place.
Sex/Nudity: A vague reference is made to pornography; a person makes a vague sexual reference (twice); an aircraft has a picture of a naked woman painted on the side; a character kisses another character on the cheek; two characters embrace briefly; two characters kiss briefly (3 times).
Mature Subject Matter:
War, mental abuse, death of a family member.
Alcohol / Drug Use:
Social drinking (adults); alcoholism (adult).
Reviewed By Leslie