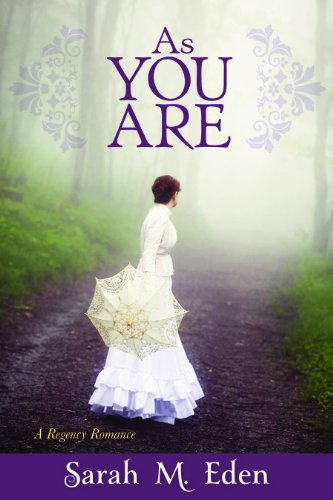 Publisher's Note:
A horse breeder by trade, Corbin Jonquil is more at home in the stables than in the ballroom of his sprawling estate. Corbin is the quietest of the Jonquil brothers and has always faded into the background, contentedly unnoticed. When a mysterious young widow, Mrs. Clara Bentford, moves into the neighborhood, however, Corbin quickly comes to realize that being noticed has its advantages. But how to catch the eye of the lady? According to his brothers, Corbin need only make a few simple changes to transform himself into the object of any woman's desire dubious advice, indeed. Following a series of misadventures, Corbin and Clara slowly lower the facades behind which they've been hiding, leaving Corbin shocked by the horrors that haunt the woman he's coming to care for so ardently. When the menace of Clara's past threatens to tear them apart and tensions mount, will the couple have the courage to fight for the promise of forever?
As You Are
by Sarah M. Eden
Overall Review:
As You Are is the third book in the Jonquil Brothers series by author Sarah M. Eden. Although the series is chronological, the books don't actually need to be read in order. This story follows Corbin Jonquil, a shy, yet kind-hearted gentleman as he develops feelings for the beautiful widow Clara Bentford. Clara's backstory is complicated and unravels slowly, keeping me turning pages late into the night. The plot thrives on classic misunderstandings but Eden shows the depth of her Regency period knowledge in the story's details. As always, Eden concocts remarkable characters and even intertwines characters from her other series into the story, so there's plenty of familiar faces. I can't get enough of the Jonquil family and I suspect readers will feel the same way. I highly recommend this darling Regency romance!
Content Analysis:
Profanity/Language: None
Violence/Gore: A few verbal threats; second hand reports of violence alluding to and involving domestic abuse and child abuse; a character punches another character and a character is hit in the head with an object.
Sex/Nudity: Multiple incidents of kissing.
Mature Subject Matter:
Domestic and child abuse.
Alcohol / Drug Use:
Talk of a man being drunk.
Reviewed By Rachel