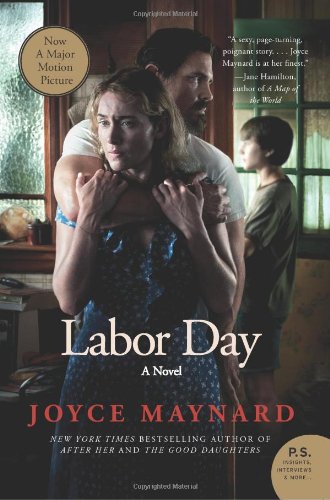 Publisher's Note:
Joyce Maynard, acclaimed author of At Home in the World, is back with Labor Day. The unforgettable story of a mother and son forever changed during a long summer weekend when a mysterious man comes into their lives.
Labor Day: A Novel
by Joyce Maynard
Overall Review:
If you have been looking for an engaging book to read, you may have just found it. Take an overly cautious single mother, her adolescent son, and a surprise male visitor over Labor Day weekend, and you get a wonderful little story that is just begging to be read. I enjoyed the not-so-subtle hints at the main characters' avoidance of real life--how they got on despite the fact that they had few friends, their monthly trips to the grocery store, and so forth. The reader realizes early on how vulnerable mother and son are, a point that is seemingly overlooked by those that are depicted in the story.
I can't believe it took the fact that Labor Day was being made into a movie for me to take the time to read this book. Of course, once it was revealed that Labor Day was coming to theaters, every copy for miles around me was being snatched up like you wouldn't believe. Somehow I was able to procure a copy, and I am glad I did. If you have the opportunity to read this book, take it. I think you will want to read the book before you see the movie. The style this book was written in didn't remind me of any author in particular, but this was a good thing. Joyce Maynard has a unique way of writing in an honest way that left me wanting more. I am going to be reading as much as I can from her in the future. And now, I am anxious to see this storyline on the big screen!
Content Analysis:
Profanity/Language: 2 mild obscenities; 2 derogatory names; 1 anatomical term.
Violence/Gore: A man is convicted for murdering his wife and child, no gory details given; a character recalls a car crash that killed their family; a character is mentioned to be injured and bleeding; a woman's miscarriage is mentioned, blood is described in one descriptive scene.
Sex/Nudity: A woman talks about methods of birth control with her friend; an adolescent boy mentions having thoughts/feelings of longing towards girls; adults kiss multiple times; teens kiss several times; a mother talks seriously about sex with her son; casual mention of a nude woman and a brief description of her body; a woman is referred to as "hot"; an unwed woman is revealed to be pregnant; a woman has an abortion; a boy mentions thinking about girls and their nude bodies in a sexual way; a man mentions being convicted for rape, no details are given; a teen boy describes being sexually aroused; two brief scenes of sex between adults with some explicit detail; a man and woman are mentioned to be sexually active.
Mature Subject Matter:
Escaped convicts, theft, lying, death.
Alcohol / Drug Use:
Adults drink; adults smoke
Reviewed By Lydia