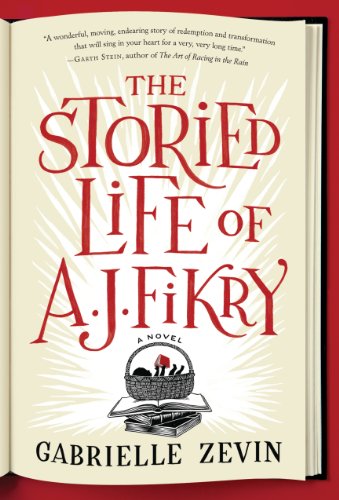 Publisher's Note:
We are not quite novels.
We are not quite short stories.
In the end, we are collected works.

A. J. Fikry's life is not at all what he expected it to be. His wife has died; his bookstore is experiencing the worst sales in its history; and now his prized possession, a rare collection of Poe poems, has been stolen. Slowly but surely, he is isolating himself from all the people of Alice Island--from Chief Lambiase, the well-intentioned police officer who's always felt kindly toward him; from Ismay, his sister-in-law, who is hell-bent on saving A.J. from his dreary self; from Amelia, the lovely and idealistic (if eccentric) Knightley Press sales rep who persists in taking the ferry to Alice Island, refusing to be deterred by A.J.'s bad attitude. Even the books in his store have stopped holding pleasure for him. These days, he can only see them as a sign of a world that is changing too rapidly.

And then a mysterious package appears at the bookstore. It's a small package, though large in weight--an unexpected arrival that gives A.J. the opportunity to make his life over, the ability to see everything anew. It doesn't take long for the locals to notice the change overcoming A.J., for the determined sales rep Amelia to see her curmudgeonly client in a new light, for the wisdom of all those books to become again the lifeblood of A.J.'s world. Or for everything to twist again into a version of his life that he didn't see coming.

As surprising as it is moving, The Storied Life of A. J. Fikry is an unforgettable tale of transformation and second chances, an irresistible affirmation of why we read, and why we love.
The Storied Life of A.J. Fikry: A Novel
by Gabrielle Zevin
Overall Review:
I love books. It's as simple as that. I try to be careful with what I claim to love, but I don't just enjoy reading. I am certain I love it. I work at a library, and to me, that is one of the best jobs for a book lover. I have a dream to work at a bookstore one day. Maybe even own one. So you can understand how this book called out to me immediately. I started to read the synopsis, and knew I needed to get my hands on this book. The best way I can describe this book is it's a librarian or bookseller's dream. And even if you are neither of those things, but are still a lover of books, you will be drawn in and excited by this novel.
I have read Gabrielle Zevin's previous novels and let me tell you, this book is nothing like them. If I hadn't known who wrote this book, I would never have guessed Gabrielle had authored it. I like her adult style though, as I have only been previously acquainted with her young adult writing. If you have read any of her earlier works, I would encourage you to give this newest novel a try. You will most certainly enjoy it--if not love it!
Review of Advance Reader Copy
Content Analysis:
Profanity/Language: 3 religious exclamations; 10 mild obscenities; 10 anatomical terms; 1 offensive hand gesture; 10 F-Word derivatives
Violence/Gore: A baby is abandoned; a robbery occurs of a valuable item; a character is mentioned to be dead.
Sex/Nudity: A man and woman have sex multiple times, no explicit details are given; adults kiss several times; a mother discusses sex and responsibility with her daughter; a girl mentions being confused about her sexuality, that she may be bisexual; a woman has a child out of wedlock; a woman is mentioned to be having an affair; a man cheats on his wife.
Mature Subject Matter:
Death, robbery, loneliness.
Alcohol / Drug Use:
Adults drink; adults smoke.
Reviewed By Lydia